Britney Says Family Hurt Her 'Deeply' In Scathing Instagram Post
by Christina Marfice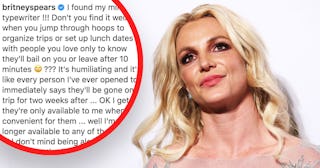 Britney Spears/Instagram and Invision/AP/Shutterstock
As her conservatorship comes to an end, Britney Spears is getting more open about how she feels about her family
Britney Spears is so close to being free. After spending 13 years under a strict conservatorship, the singer is finally speaking out more about what she's endured — and how she feels about the people in her life who have let it happen. She's taken direct aim at her family, who initiated and controlled the conservatorship, a number of times in recent weeks, but a new Instagram post about them might be her most scathing yet.
In the post, which shows a picture of a tiny typewriter next to some roses, Britney started off by talking about people who are only around and supportive when it's "convenient" for them.
"Don't you find it weird when you jump through hoops to organize trips or set up lunch dates with people you love only to know they'll bail on you or leave after 10 minutes" she wrote. "It's humiliating and it's like every person I've ever opened to immediately says they'll be gone on a trip for two weeks after … OK I get it … they're only available to me when it's convenient for them."
But Britney is reclaiming her power.
"Well I'm no longer available to any of them now," she continued. "I don't mind being alone … and actually I'm tired of being this understanding Mother Teresa … if you're rude to me then I'm done … peace out."
You might have thought this was going to be a vague post that might have been directed at an ex or a fake friend, but nope. Britney gets very real in the next part of her caption, and leaves no doubt as to who she's referring to.
"This message is to my family," she wrote, "for hurting me deeper than you'll ever know !!!"
Britney continued, "I know the conservatorship is about to be over but I still want justice !!! I'm only 5'4″ and I've played the bigger person my entire life … do you know how hard that is ???"
We can't even imagine how hard that is, but we're so glad to see Britney finally standing up for herself now. After the things she's described that her family put her through, she's entitled to put them on blast for the rest of her life. Hopefully, once her conservatorship is finally over, she can set some real boundaries and protect herself from the people who have used her for her entire life. #FreeBritney.