New Netflix Britney Documentary Will Explore Years Of Conservatorship
by Christina Marfice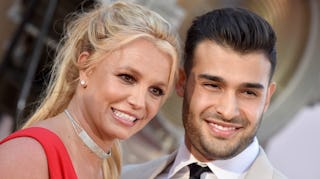 Axelle/Bauer-Griffin/FilmMagic
A teaser for the new Netflix documentary Britney Vs. Spears reveals it will uncover secrets about all the years the singer has spent in her controversial conservatorship
Britney Spears has been dominating headlines for months as she's fought to end her 13-year conservatorship. Now, a new Netflix documentary promises to do a deep dive into the conservatorship, revealing the pop star's efforts to gain her freedom that began many years ago.
In a teaser that was released on social media, the singer can be heard leaving a message for an attorney.
"Hi, my name is Britney Spears," she says. "I called you earlier. I'm calling again because I just wanted to make sure that during the process of eliminating the conservatorship…"
The date that message was left? January 21, 2009.
The teaser doesn't give us too much to go off of, but it does confirm one thing: Britney's efforts to escape her conservatorship began long before the #FreeBritney movement, and long before she gave this year's explosive court testimony that detailed years of reproductive coercion, forced medication, and what she called "conservatorship abuse."
The Netflix documentary has been in the works for quite a while — it was planned even before the New York Times documentary, "Framing Britney Spears" went live on Hulu, sparking renewed fan interest in Britney's horrible treatment by news media at the height of her fame, her public breakdown, the ensuing conservatorship, and the struggle to end it. That documentary focused partly on theories that Britney was being held in the conservatorship against her will, but it didn't have any proof — as this documentary appears to have.
Britney Vs Spears is set to premiere on Netflix on September 28, as Britney is inching closer to freedom, but fans are still concerned about confusing and inconsistent things happening on her social media. While her father has agreed to step down from his role as conservator and end the conservatorship, Britney abruptly deactivated her Instagram account last week, claiming she was taking a break to celebrate her engagement. When she returned to the platform this week, fans noticed her photos appeared to be old ones being reposted, even though she claimed they were taken during a recent weekend getaway. It's sparked questions about whether Britney is still in control of her own social media as the world waits for her father to take official steps to end the conservatorship like she's requested.
Will this new documentary offer any answers to lingering questions? We'll have to wait and see when it drops next week — just before Britney's next scheduled court hearing on Sept. 29.