Brittany Aldean Claps Back At Trolls Shaming Her For Taking Baby-Free Vacation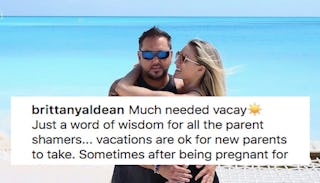 Image via Instagram/Brittany Aldean
Mom shamers came for Brittany Aldean for taking a baby-free vacation but she isn't having it
Brittany Aldean isn't here for your mommy shaming.
The new mom had no patience for mommy shamers who suggested she shouldn't leave her 3-month-old son, Memphis, for a couples' getaway with her husband, country singer Jason Aldean.
"Just a word of wisdom for all the parent shamers… vacations are ok for new parents to take," Aldean wrote on a recent Instagram post. "Sometimes after being pregnant for almost a year, cooped up in a house for weeks at a time, you need a little sunshine and adult time. IT IS NOT OK to leave your ignorant comments. If you don't agree with something, PLEASE… do me a favor and unfollow me. You will NOT be missed. And for all the sweet, positive, happy people… we love you and thank you!!"
The shaming started after Aldean posted a picture of herself heading out on vacation with a picture of her baby propped up beside her and the caption, "Haven't even left Nashville and I miss him so much it hurts."
You'd think moms would relate to Aldean's need to get away AND how much she missed her son, but you'd be wrong. While most of the comments were supportive of her need for a break, Aldean was still slammed by some moms who were quick to remind her how much better they are at parenting than she is.
"Hell no I couldn't do it. I can't even go on dates because I want to take my 17 month old with me lol," wrote one commenter. Another had this to say: "She didn't have to leave him. I really don't know who could at that young." Well thank goodness the perfect moms have arrived on the scene to dole out a heaping helping of shame!
Like most new moms, Aldean's Instagram is a tribute to her baby. She regularly posts adorable pictures of her son doing everything from bathing and eating to just plain looking adorable. It's obvious that Aldean loves her son and simply needed an adult-only vacation. Newsflash: Moms need a break too.
But instead of supporting Aldean in her need for some time alone with her husband, other moms were quick to leap to judgment.
Marriage is hard, and that's especially true in those first few months after a new baby is born. Aldean and her husband are lucky to have the opportunity to take time to rekindle their romance in between diaper changes and night-time feedings.
Despite the internet's concern for little Memphis, it looks like he survived his parents' getaway just fine. Aldean posted this picture this morning of Memphis with the caption "Back with my baby."
Now maybe the mommy shamers can go back to their regularly scheduled worry about how other moms feed their babies and the positions of their car seat straps.