You Can Stream Broadway Shows For Free Right Now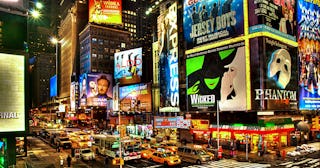 Fresh photos from all over the worls/Getty
If we're stuck at home, we might as well binge-watch Broadway shows for free
While a large portion of the country is practicing good social distancing and not even heading into work or school anymore, things might get a little boring at home. Sure, there's tons of streaming networks at our fingertips, but honestly, there's only so many murder shows and crappy reality TV series that we can watch. Enter BroadwayHD — a streaming service dedicated to Broadway shows that we can watch while we have all the time in the world.
Set aside your puzzles and wine — ok, maybe hang on to the wine — and get yourself a 7-day free trial of BroadwayHD. Of course nothing compares to seeing your favorite Broadway shows onstage in person, but Broadway has gone dark for 30 days anyway in response to the coronavirus pandemic, so this is literally the best we can hope for. Honestly, does it get any better than watching Broadway hits in your hole-y sweats while sipping cheap chardonnay and eating Triscuits? Nope. It does not.
They have The King And I.
And Kiss Me Kate.
https://www.instagram.com/p/B8M5J6bFntO/
They even have Riverdance, y'all.
So for seven days, you can watch musicals, plays, and ballets while eating all your quarantine snacks and trying to keep your spirits up. It's not a Broadway stage, but it's the best we can do right now. If you love it, it's only $8.99/month or $99.99/year to have BroadwayHD in your life always. A worthy investment if there ever was one.