Brock Turner Loses Appeal -- Will Register As Sex Offender For Life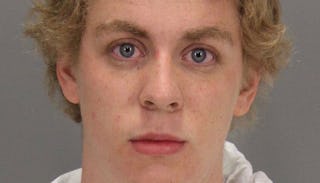 Image via Stanford University Department of Public Safety
Brock Turner tried to overturn his sexual assault conviction but the court shut him down
Brock Turner, the disgraced Stanford student who was convicted of sexually assaulting an unconscious woman, is in the news again. Turner filed an appeal to overturn his conviction, claiming that he had no intention of raping the victim (who has been referred to as Jane Doe). Thankfully, that appeal has just been unequivocally dismissed in court.
Just to recap: Turner was caught outside of a college party, thrusting on top of a half-naked, motionless woman. He was spotted by two graduate students, one of whom yelled: "Hey, she's fucking unconscious!" Turner attempted to run away, but the men pinned him down and called the police. When officers arrived on the scene, they found Doe behind a dumpster, breathing but unconscious, pine needles in her hair, underwear on the ground.
Turner's lawyer Eric Multhaup argued in court last month that his client only wanted "outercourse," which is why his clothes were still on. He claimed that Turner didn't have any intention of raping Doe and was not aware of the fact that she was unconscious. On Thursday, the appeals court shut that down.
"Defendant's convictions are supported by sufficient evidence," the court wrote. "While it is true that defendant did not expose himself, he was interrupted. Jurors reasonably could have inferred… that if the graduate students had not stopped defendant, he would have exposed himself and raped her."
They also added that there is "substantial evidence that defendant knew Jane 1 was unconscious at the time he sexually penetrated her with his finger" and noted, once again, that Turner attempted to run from the scene when he was caught. Oh yeah, and he also tried to lie to the court about running from the scene as well.
This means that Turner will remain a registered sex offender. He has already served out his sentence, six months in jail which was cut in half for good behavior. At the time of sentencing, Judge Aaron Persky said that he was concerned a long jail sentence would have a "severe impact" on Turner's life. That judge has since been booted from office because of his lenient stance.
Meanwhile, in light of Turner's attempt to overturn his conviction, it's worth rereading the powerful, heartbreaking letter his victim read in court. She urged Turner to own up to his actions, and stop pretending that he hadn't done anything wrong.
"You do not get to shrug your shoulders and be confused anymore. You do not get to pretend that there were no red flags," she said. "You have been convicted of violating me, intentionally, forcibly, sexually, with malicious intent, and all you can admit to is consuming alcohol. Do not talk about the sad way your life was upturned because alcohol made you do bad things. Figure out how to take responsibility for your own conduct."