Brock Turner Is Literally The Definition Of 'Rapist' In One College Textbook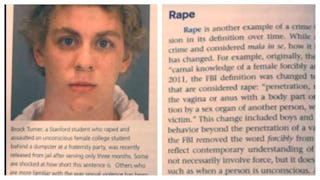 Image via Facebook/ Hannah Kendall Shuman
College textbook uses Brock Turner's mugshot next to the definition of rape
On January 18th, 2014, a couple of students on bikes spotted a man thrusting on top of a half-naked, unconscious woman behind a dumpster on the Stanford University grounds in Palo Alto, California. The students tackled the man after he attempted to run off, and called police. When the police arrived, one of the men who stopped the attack was so disturbed by what he had seen, he could barely speak through his tears.
The man they tackled was 19-year-old Brock Allen Turner. What would follow after his arrest would be the most infuriating example of why women do not come forward after they are attacked. Here a man was caught assaulting an unconscious woman, by two witnesses/heroes who stopped the attack and testified at his trial.
He was arrested and charged with five felony counts: rape of an intoxicated person, rape of an unconscious person, sexual penetration by a foreign object of an intoxicated woman, sexual penetration by a foreign object of an unconscious woman, and assault with intent to commit rape. He was released from jail on $150,000 bail.
He was found guilty of three of the five felonies he was charged with: assault with intent to commit rape of an intoxicated/unconscious person, penetration of an intoxicated person, and penetration of an unconscious person.
He was facing a maximum sentence of 14 years in prison.
Santa Clara County Superior Court Judge Aaron Persky sentenced him to six months in Santa Clara County jail.
Six months.
There is no justice in the world. But thanks to one student, we get a glimpse of some very satisfying imagery in a college textbook.
"He may have been able to get out of prison time but in my Criminal Justice 101 textbook, Brock Turner is the definition of rape, so he's got that goin for him," Hannah Kendall Shuman wrote under an image of the textbook she shot and uploaded to Facebook.
Shuman then clarifies the book is Introduction to Criminal Justice, Second Edition, by Callie Marie Rennsion.
"Brock Turner, a Stanford student who raped and assaulted an unconscious female college student behind a dumpster at a fraternity party was recently released from jail after serving only three months," the caption under Turner's photo in the textbook reads. "Some are shocked at how short the sentence is. Others who are more familiar with the way sexual violence has been handled in the criminal justice system are shocked that he was found guilty and served any time at all. What do you think?"
What do I think? I think we have to tell our daughters every day how important and valued they are. Because our justice system certainly will not.
I think Judge Persky should be unseated.
I think this should follow Brock Turner around like a scarlet letter for the rest of his days.
This article was originally published on