Someone Broke Into This Guy's House Just To Clean It
by Valerie Williams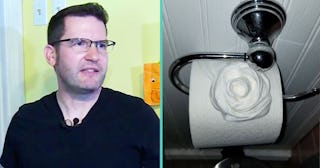 Courtesy of Nate Roman and ABC
He has no idea who broke in and only cleaned his house instead of stealing anything
Sometimes, dreams really do come true — but not always in the way we envision. Such is the case of a Massachusetts dad dealing with the world's weirdest (and best?) home invasion. A person(s) broke into his house… and cleaned it? No, seriously. That's all they did. He's definitely creeped out, but really, he should be celebrating living the dream of all parents everywhere. Honestly, why doesn't this happen to us?
If he can get past the extreme weirdness of a total stranger breaking into his house and touching his belongings, Nate Roman should be cheering from the rooftops after having his house cleaned top to bottom, by surprise, and for free. I cannot even count how many times I've fervently prayed for a similar turn of events as the dishes, laundry, and kid clutter piled up. Please, weirdly helpful criminal — please come through an open window and save us from our messy selves.
Roman tells CBS Boston that the signs were obvious the moment he walked in. "You could smell the cleaning chemicals," he says. "I could tell something was wrong so I started looking around the house, and I found that my bathrooms had been cleaned."
While there's no signs of damage or break-in and zero suspects, it's still pretty scary to know that a total stranger was all over this man's home. "It was a tense couple of days, just worried," he shares. "Just cause someone was in the house. It's like I've been waiting to open a cabinet and find that creepy artifact you know."
On the bright side, Roman says his son's room was in great shape, along with the toilets. "I will say the bathrooms were very well done, my son's room has never looked better, it is now back to its original state," he tells CBS.
He does have some suspicions about who might've done it. "It was really the roses that really got me thinking that some professional cleaner had accidentally stumbled into my house," Roman says. "If I was going to judge the quality of a toilet paper rose I would call this high quality."
I mean, I'm lucky if members of my family even get out a new roll of toilet paper and leave it on top of the empty one instead of just using tissues to wipe. Or god knows what else. This is pretty much magical.
Roman tells Scary Mommy that the only witness to the crime doesn't really have anything to report — because it's his son's bearded dragon. You can just tell by looking at his eyes, though — he's seen things.
There is one sad detail of this oddball story — the cleaning bandit didn't touch the kitchen, which he says was "a little disappointing."
Roman tells us the whole thing is really pretty bonkers to him, but he would like to know who blessed him with both cleanliness and a mystery to solve. "It's so crazy. I hope someone does fess up!"
And after they confess, head on over to our homes next, please and thank you.
This article was originally published on