Our Broken Justice System Uses Band-Aids — Like Monetary Compensation — To Try To Seal The Breaks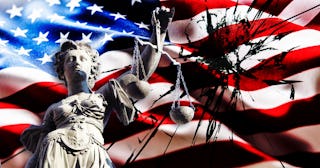 Scary Mommy, SimpleImages/Jenny Dettrick/arturbo/Getty
We've heard it before. It's old. It's a really, really tired headline: "Unarmed Black Man Killed," or "After 31 Years, Black Man Released From Prison Was Wrongly Accused." It's become such a normal occurrence for us that we've come to expect those headlines. Most often, our judicial system would rather weakly patch its cracks rather than fix it, change it — hell, do anything else other than what it's been doing: arresting, convicting, and imprisoning innocent people, particularly Black people.
Henry McCollum was sentenced to death at the age of 19 along with his brother Leon Brown, then 15. They spent 31 years in prison for a crime they did not commit. They were released and cleared of all charges in 2014. This month, they received $1 million for each year they spent in prison and an additional $13 million in punitive damages for a total of $75 million — the biggest settlement in the state's history.
Here's what's wrong with that. Money cannot give a person back their life, just as finding and convicting a killer of murder won't bring the victim back. Money does not fix the problem; it is only a bandaid for a much bigger wound.
Henry and Leon were convicted of the 1983 rape and murder of Sabrina Buie. Sabrina was an 11-year-old little girl at the time of her rape and murder, living in Red Spring, North Carolina, whose body was found half-naked in a soybean field not far from her home. Given the brutal nature of the crime, I understand the urgency to put such a monster behind bars. Whoever committed the crime raped and strangled Sabrina with her own underwear. The suspects in this case were Henry and Leon. One piece of DNA evidence found at the scene — a cigarette — connected the real perpetrator, Roscoe Artis, who lived across the street from Sabrina and her family, to the crime.
Like the Central Park Five, the only piece of this case that connected Henry and Leon to this rape and murder were the confessions they signed. They, then teenagers, recanted shortly after saying they were coerced, and their pleas went unanswered. A North Carolina ABC news affiliate reported on how the brothers were ultimately convicted and charged: "The two were never physically connected to the Buie crime scene, but signed written confessions days after the discovery of the child's body. After a series of re-trials through the '90s and early 2000s, newly discovered evidence tucked away in the Red Springs Police Department." And this is precisely where change needs to happen — from the very first step onto the scene of a crime.
A late-2020 study done by the National Registry of Exonerations found that 54% — more than half — of wrongfully convicted prisoners were convicted because of official misconduct, whether from police or prosecutors or both. Unsurprisingly, these convictions affected people of color the most; the study's authors noted that "We found, among other patterns, that Black people who were convicted of murder were about 50% more likely to be innocent than other convicted murderers, and that innocent Black people were about 12 times more likely to be convicted of drug crimes than innocent white people."
Samuel R. Gross, an emeritus professor at the University of Michigan Law School, told The Washington Post, "Misconduct by police, prosecutors and other law enforcement officials is a regular problem," and it "produces a steady stream of convictions of innocent people." He also added that since there is no central repository for court statistics, and exoneration data is gathered solely through legal rulings and news reports, that the Registry cannot track them all and that clearly, "misconduct occurs in many more cases" than just the ones recorded.
The Innocence Project is one organization working to exonerate the wrongly convicted through DNA testing. They are also working to raise awareness about our justice system, recognizing that just because a person is released and awarded money, their lives will never be the same. Prison life is not something you can just erase from your memory. I should know; my mother was incarcerated for almost four years.
The Innocence Project states on their website, "Deprived for years of family and friends and the ability to establish oneself professionally, the nightmare does not end upon release. With no money, housing, transportation, health services or insurance, and a criminal record that is rarely cleared despite innocence, the punishment lingers long after innocence has been proven. States have a responsibility to restore the lives of the wrongfully convicted to the best of their abilities."
When a person leaves prison, they never really leave prison — the life they lost is difficult to regain. It's even more heartbreaking when that conviction and imprisonment are false. The justice system must work to make the process of getting back to a "normal" life easier, especially if we wish to see recidivism rates go down, though this can have monetary implications in for-profit prison systems,(which will hopefully be a 'thing of the past' soon enough.)
It seems like common sense that our justice system would go to great lengths to ensure they have the right person in custody, as well as honor their right to a fair trial and appropriate sentencing. But, too often, this is not what happens, especially when it's easier to let a person of color take the fall.
Early last week, Kristen Clarke was confirmed as the new leader of our Department of Justice Civil Rights division. What makes this newsworthy, aside from her qualifications, is that she is the first Black woman (heeeyyyy, Vice President Harris) to lead the department. In April during her confirmation hearings, she said, "Our nation is a healthier place when we respect the rights of all communities."
Lawyer and author of "Just Mercy," Bryan Stevenson, said it best in an NPR interview: "One of the things that pains me is we have so tragically underestimated the trauma, the hardship we create in this country when we treat people unfairly, when we incarcerate them unfairly, when we condemn them unfairly."
On the heels of the one year anniversary of George Floyd's death, I am reminded that our broken justice system has a long road ahead — but we must keep pushing forward until those breaks are not only bandaged, but healed.
This article was originally published on