Brooklyn Decker Calls Out Troll Who Called Her 'Gangly' After Having Kids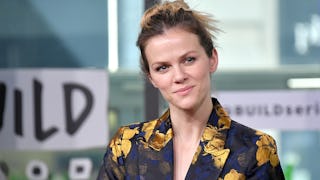 Image via Getty Images/Michael Loccisano
The mom of two didn't mince words when it came to commenting on her body
One more time from the cheap seats — it's never, ever acceptable to comment on another woman's body. Ever. This time it was actress and mom-of-two Brooklyn Decker who clapped back at someone who decided she was fair game for commentary because she's famous.
The Grace and Frankie star and mom to Hank, three, and Stevie, one, called out someone on Twitter who said she looks "gangly" since having kids, according to TODAY.
"For the umpteenth time — because people love to comment on my body (or lack thereof) my children sucked the life out of my body and left behind a bag of bones," Decker wrote in response to the now-protected tweet. "I don't know what else to tell you. I miss my boobs too — I don't even know what to call them now," the former Sports Illustrated Swimsuit model continued.
Decker, who is married to tennis legend Andy Roddick, was well within her right to call out this stranger, who somehow thought her opinion of someone else's body was important enough to throw up on social media. Decker's response resonated with so many other women going through similar situations with their own post-pregnancy bodies:
Decker responded, joking, "The funny thing is I haven't had the time to buy new bras, so they are like empty shells of their former life. A daily reminder of what once was!"
Another mom chimed in that she also felt like a "bag of bones" since having her child and Decker was quick to ask, "did it ever change?! did you go back to 'normal'? or did that become your new normal?"
https://twitter.com/jetpack/status/1091222356004089856
Others jumped to Decker's defense and wanted to make sure she knew she's perfect just the way she is:
Not only is Decker a gorgeous specimen, but she's also really funny. She's killing it onscreen and is completely relatable as a parent. She even live-tweeted her first trip away from her kids and it was hilariously real.
For some reason, when someone's a public figure they're seen as "up for grabs" when it comes to commenting on every aspect of their lives — and bodies. But Decker is a woman and a mother, she doesn't deserve to have any part of her life dissected, least of all her appearance. It's unkind, uncalled for, and says more about the person commenting than it does anything else.
For Decker, she's never really been someone who worries about diet. "Food is there to be enjoyed, and the less you deny yourself what you want, the more you tend to make consistent wholesome choices," Decker told PEOPLE last year. "If you want the cake, have the cake." She's clearly a force to be reckoned with, both on screen and off.
Sounds like she's taking it all in stride, and with two gorgeous kids and a bustling career, the haters can step aside.