You'll Never See Brooklyn Decker's Kids' Faces on Instagram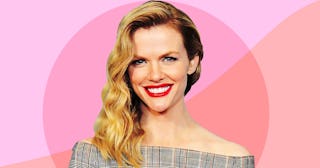 Scary Mommy and Charley Gallay/Getty
If ever you needed a palette cleanser from gauzy, meticulously curated, soul-destroying social media feeds, just binge on the posts from Brooklyn Decker. The mom of two, who's married to Andy Roddick, has live-tweeted her saga involving breast pumping on a plane. On Instagram, she showcased her swollen pregnancy ankles, which elicited a priceless response from Chrissy Teigen. And during the 2020 presidential election, Decker dressed up on in an American flag onesie and while rollerskating, campaigned for Joe Biden. Because — why not?
Somehow, Decker has struck a balance that remains elusive to many of her peers: She's relatable, droll, and giddily outspoken, while still remaining resolutely private. To wit: She's never showcased the faces of son Hank, 5, and daughter Stevie, 3. But she will happily post a photo of Roddick as everyone's favorite Arendelle ice princess.
"It's hard because I want to share — there are hilarious videos and stories and pictures and I want to share all of it, you know? Because I'm pretty candid on there," she says.
Decker and Roddick have been hunkered down with her family, while their home is being renovated, emerging only to host an event benefitting the Andy Roddick Foundation, which raises money for youth in low-income communities: "We just did our big fundraiser to support families, because obviously the kids are not in school right now." She spoke to Scary Mommy about making things work,
So let's start with the unavoidable. How is lockdown treating you, at home with two kids under five?
Hank just turned five and then our daughter Stevie turns three. It's been March since they've been in school and they aren't seeing anyone and they're going crazy. Hank, when we go to the park and our kids wear masks at the park and hang out, he's like, 'I just want to make a friend. Can anyone be my friend?' It's so sad and so frustrating. We're in North Carolina right now. We've been quarantining here. We've been mostly locked down.
It's great that your kids can live normal lives, and no one knows what they look like. How did you manage that, given that both of you are famous?
I have friends who have huge profiles who show their children because if they don't, they'll be hounded by paparazzi — they'll have no privacy. It will be unsafe for their kids. So they don't have a choice. They share their kids and I respect their decision. But for us, that's not a problem we have. So we want to let them choose. What is out on the internet is our digital footprint and it'll be our background check in the future. Now, I share my mothering experiences all the time, because that's funny to me, but I try to keep them out of it. It's hard because you want to share every hilarious video and everything they say.
How do you handle discipline? I mean, I never need to discipline my kid, so asking for a neighbor.
Kids are different. Our son is so responsive to reason and discussion. Our daughter, not so much. It's harder with her. It comes down to, 'I'm going to throw away your toys if you don't do this.' That's an empty threat. I've definitely made empty threats with her, for sure. I love this stubbornness, but it's really challenging me as a mother right now.
I feel like in so many ways, I'm so childish that I can really get on their level in an effective way. Sometimes it riles them up and it's not effective. I remember so clearly the many emotions they're feeling, and I remember feeling those as a kid and that's really helpful. I remember being terrified, paralyzed with fear as a kid, by nightmares. And so when my kids have them, there's a level of, I totally get it. I've been there. I know how you feel. It's an awful feeling. Andy always tells me that you're so old and wise, but you're also still a little kid.
How do you and Andy support each other as parents?
We're not aligned on a lot of things in life, but we are so aligned on our level of discipline with the kids and what we're both willing to tolerate. We didn't plan that out. We didn't talk it through. So that sounds very annoying, but we are so simpatico as far as that's concerned. I don't know that there's been one time in our parenting experience where either one of us have said, 'Oh, I don't agree with you on that.'
He's supports everything. I've changed my career a million times. I've done a million different things. I don't know if it's just being indecisive or not knowing what I want. And he says, 'Great, we'll figure it out. Awesome.' We're blindly supportive of each other. And we shift. I promise it's not this easy, but I do feel like we're really good about stepping in when someone's just exhausted and worn out and it's time to tap out. We have figured out how to do that.
And without getting all cheesy on you, I want to thank you for all the work you did encouraging voter turnout. You literally made a difference in our kids' futures.
In my opinion, as a liberal, if the Trump presidency did anything good, it was to ignite a new set of activists in this country. Many women who had been sort of politically apathetic voted and were out canvassing. I think this administration really sort of lit a fire under all of us. So I couldn't not do anything. I lost a lot of followers.
What's the status of Grace & Frankie, your Netflix show? Any plans to resume filming?
They shut us down in March, middle of production. And we were supposed to go back November, which is now obviously not happening and now it's being pushed to summer. It's what we should be doing. It's the responsible thing. Other productions are back. We can learn from what they're doing. We can see what's working and what's not and be as safe as possible.
This article was originally published on