Soldier Watches His Daughter's Birth On FaceTime And Everyone's Crying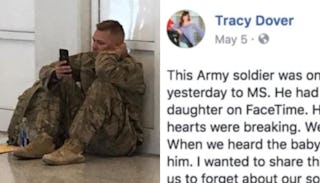 Image via Facebook/Tracy Dover
If you've ever wondered how much our military sacrifices, look at this photo
It's no secret that the men and women in our military make huge sacrifices to serve their country. But just how much do they give up? One candid photo seems to sum that up.
Tracy Dover was waiting to board a flight when she happened across a heartbreakingly poignant scene: A soldier, Brooks Lindsey, sat on the floor, watching the birth of his new baby daughter on FaceTime. She snapped a photo and posted it to Facebook, where it was also shared by Frank Somerville, a popular news anchor at KTVU. The image has since gone viral, and the story behind it tells us exactly why.
"This Army soldier was on my delayed flight home yesterday to MS," Dover wrote. "He had to watch the birth of his daughter on FaceTime. He was crying and our hearts were breaking. We all gave him space. When we heard the baby cry, we all rejoiced for him. I wanted to share this because I never want us to forget about our soldiers who serve us everyday and the sacrifices they make."
Lindsey's wife, Haley, later shared video of her husband sitting at the airport watching his phone to see his new baby enter the world.
Don't worry if you just made a beeline for the tissues. That's basically what the entire internet did.
And thanks to KTVU, an update got dropped in the comments, showing that the unidentified soldier did eventually make it home to meet his new daughter, Millie Fritz Anne Lindsey.
It's easy to take for granted that most of us have a partner present when we give birth. Stories like the Lindsey family's are a humbling reminder that it's not that simple for everyone.