Bruce Willis And Demi Moore Are Self-Isolating Together With Their Daughters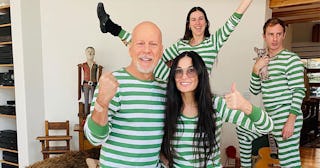 tallulah/Instagram
Bruce Willis and Demi Moore look like they're having a pretty fun family time, tbh
Though Demi Moore and Bruce Willis have been divorced since Y2K was the biggest potential crisis of the time, they're showing they're still on good terms. Such good terms, in fact, that they're self-isolating in quarantine together with two of their three adult daughters right now.
The former couple posed together in an Instagram photo shared by their youngest daughter, Tallulah. They're even wearing matching striped pajamas and smiling genuine smiles! (Children of divorced parents everywhere are about as green as those jammies in envy.)
Their middle daughter, Scout, is posing in the background with Dillon Buss, a film director. Their oldest daughter, Rumer, is apparently not isolating with the rest of the Willis crew.
"Chaotic neutral," Tallulah writes in the caption. LOL. Perfect. In one of her Instagram comments, the youngest of the Willis daughters responded saying, "made the choice to quarantine together and have been together for 27 days taking every precaution."
Moore has been sharing photos of herself and the girls as they practice social distancing and self-isolation like the rest of us during this crazy, scary time.
"Quarantine crew… working on a family photo project ❤️," Moore writes in the caption.
She and her family have been keeping busy in creative ways, no doubt. Here's Scout playing the guitar as everyone sings along.
Though it's unclear when Willis decided to join the party, it's pretty cool that even though their daughters are all grown up, they're still committed to being co-parenting goals. The pair were married from 1987 until 2000. In Moore's 2019 memoir, Inside Out, she wrote about how "proud" she is of their divorce.
"I think Bruce was fearful at the beginning that I was going to make our split difficult, and that I would express my anger and whatever baggage that I had from our marriage by obstructing his access to the kids — that I'd turn to all of those ploys divorcing couples use as weapons," she wrote. "But I didn't, and neither did he."
They remained committed as parents, even though they knew it wasn't going to be easy. "We managed to move the heart of our relationship, the heart of what created out family, into something new that gave the girls a loving, supportive environment with both parents," she wrote.
Willis is currently married to Emma Heming Willis, with whom he shares two daughters, ages eight and five. It's not clear where she and the little ones are, perhaps they're all doing one big family quarantine?
https://www.instagram.com/p/B8Zii0EJeXb/
Either way, that's a lot of pairs of matching pajamas.