'Bruce's Beach' In Los Angeles Will Soon Be Returned To The Black Family It Was Stolen From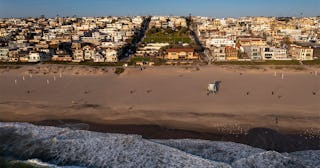 Allen J. Schaben/Getty
For African Americans, land and homeownership have long been a dream — something that was hard-fought to have and continues to be a struggle for many to obtain today. In 1924, a beach resort existed in Los Angeles that allowed Black folks the recreational opportunities that segregation denied them, land that was built for and open to African Americans to freely enjoy. This is the story of one woman's journey and how her dream was taken away from her because of racism and lies.
A simple Google search tells us that present-day Manhattan Beach is located in the county of Los Angeles. It is in the South Bay community and "popular with families and outdoor enthusiasts" alike. What it leaves out is the history of how Manhattan Beach came to be.
In 1912, a woman by the name of Willa Bruce bought two plots (or two acres) of land for $1,225. An entrepreneur of her time, Willa created a lodge, cafe, and dining hall for African American people who frequented the area during the time with the help of her husband Charles, who worked as a dining-car chef serving people on passenger trains running between Utah and California. She had tried unsuccessfully to purchase land before. "Wherever we have tried to buy land for a beach resort, we have been refused," she stated in a 1912 interview with the Los Angeles Times. This time, she was determined to see her vision through.
Eventually, Black people built cottages by the water, creating what would be a present-day kind of Martha's Vineyard – built by, and welcoming of, African American people. Bruce's Beach became the place African American people could escape to for their weekend getaways … that is, until 1924, when the government took the land away from Willa Bruce through eminent domain under the premise that a public park would be built on their land.
The community was terrorized by white people who did not want to see this particular community prosper. There are different accounts of how intimidation, typical during the time, became the weapon of choice for members of the KKK – from the burning of mattresses on deck to the burning of homes owned by African Americans in the surrounding community. One account, shared by writer Rosanna Xia in the Los Angeles Times, states, "Fake '10 minutes only' parking signs were posted to deter Black out-of-town folk."
To right the wrongs of the past, the California legislature passed a bill just last week that would return Bruce's Beach — now worth approximately $75 million — to the descendants of Willa and Charles Bruce. We know how powerful the government can be, and in Willa and Charles's case, the government listened to the white people who resented this family for all of the wrong reasons. The government, while typical of its time, supported the calls from the white people of the town, supporting the "normal" racist views of the time and ultimately shutting down a beautiful, welcoming community for Black people who couldn't go elsewhere.
It's taken over one hundred years for the government to admit its wrongs, but for the family of Willa and Charles Bruce, it's better late than never; the unjust seizure of their family's land has haunted them for generations. "How would you feel if your family owned the Waldorf and they took it away from you?" descendant Bernard Bruce said in a 2007 interview with the Los Angeles Times.
Historian and relative of the Bruces, Duane Shepard, shared with the Southern California News Group, "I'm elated, walking on water right now. This is one of the greatest things in American history right now."
While it took way too long for California to open its eyes to the injustice placed on this one family, how many more Black families are owed their land? Even within my own African American family, something my grandparents always taught me was to buy a home and get an education. They believed that those were two things no one could ever take away from me. But for the Bruce family, nothing could have been further from the truth. It's about time this grievous wrong was righted, even if Willa and Charles aren't around to see it.
This article was originally published on