Someone Needs To Adopt Bruno, The World's Most Extra Cat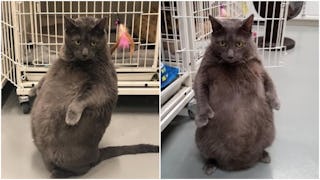 Image via Wright Way Rescue
Bruno is the original dad-bod
For anyone whose adopted a rescue animal, you know how rewarding it can be. You get a new, adorable member of your family and save a deserving animal from possibly being euthanized. There are so many pets out there in need of good homes, it can be hard to decide exactly which one to adopt. Allow me to make it easier for you — meet Bruno.
"Hi, my name is Bruno! I am a 7 year-old polydactyl cat who is 25 pounds," Wright Way Rescue wrote on their Facebook page. "There's a lot of me to love!"
This hunk of burning love is perfectly healthy, though according to his ad he is on a diet (I happen to think he's purrfect just the way he is).
Wright Way tells Scary Mommy that Bruno's been with them since April of this year after being surrendered by his previous owner. "Sadly, he was not meshing well with the kids in the home," they said. "That doesn't come as a big surprise, given that he is very overweight and could not swiftly run away when he need a break from the commotion."
In addition to his love of food and sleep, he enjoys being pet (ONLY on the face and neck. NEVER the tummy unless you enjoy sleeping with one eye open) and playing with his feather wand toy. When he's not playing with his wand, you can find him idly walking around the house with it, pointing and judging all of your life decisions.
In fact, here he is perusing possible forever family applications now:
Bruno also has some "quirky traits" including the need to be pet while he's eating and standing on his hind legs. Also, Bruno will not drink water in the kitchen, you have to place it in another room — multiple rooms if possible and it needs to be refilled with clean water at least once a day. Yes, he knows he's EXTRA and no, he doesn't give a single crap what you think.
"There are amazing adoptable animals out there, just like Bruno, who are in need of families," Wright Way said. "They may not stand on their hind legs or be as extra as him, but there are so many that are in need of loving homes. Adult cats often sit in shelters the longest, and they are just as deserving of love."
According to their website, Wright Way Rescue's mission is to reduce the number of pets euthanized in the Midwest. They offer an adoption program for homeless and surrendered pets as well as community education, spaying and neutering, and various outreach programs.
Bruno would also like you to know he's a "very laid back, lazy cat who just wants to be in the presence of my owners. I hear I make them laugh and smile every single day." Pretty sure he's got that last part nailed.
Obviously, Bruno has many suitors vying to adopt him but Wright Way is still accepting applications to find his perfect family, so if you are interested please fill out an application on their website or click here to donate to their shelter and help animals like Bruno find their forever homes.
This article was originally published on