Toddler Adorably Demands His Mom Postpone Labor: 'We Need You'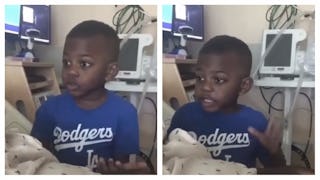 Image via Instagram
This little boy made one thing clear: he sure loves his mama
If you know what it's like to welcome more than one child into the world, then you know your existing children don't care how busy you are — or if you're in labor and about to deliver their sibling, even — they need you to know they need you.
Four-year-old Bryce Wilson will steal your heart in this video, where he has a mini-existential crisis over his mom's hospitalization as she prepares to give birth to his newest sibling. It is, quite simply, one of the cutest things EVER.
"We need you. We need you to stay alive and we don't want nothing to happen to you," he says. His mom explains that she's fine and that she's in the hospital so the doctors and nurses can keep her and his baby sister safe.
Bryce is having exactly none of it.
"We need you because we need our mama. We need you," Bryce says. "We need you to stay alive, and we don't want nothing to happen to you." He gets pretty worked up about how much he loves his mama and continues to express his concern.
"But you have your daddy and your brothers," his mom assures him. "I don't need no brothers and no dad. I need you!" You tell her, Bryce. Ugh, our hearts. We love this kid.
Apparently thousands of other people do too, if the comments accompanying the viral video are any indication:
Such a sweet baby boy!!
What a great testament to how wonderful of a mom you are!
Lil man threw his hands out and made his point very clear that he doesn't need any brothers and no dad but he needs his mother!
This has got to be one of the most precious things I've ever seen! These are the moments that makes being a mom the best!
This is the best video ever Lord I love the innocence of a child. He is so serious.
Your son is a little angel this video brought tears to my eyes.
It just goes to show how much our little ones depend on their parents to bring them comfort, love, and, well, pretty much everything no one else can.