BTS Dances At The U.N. Building To Spread Vaccine Awareness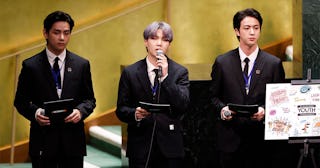 JOHN ANGELILLO/AFP/Getty
BTS sang and danced at the U.N. building and admitted that all seven members have been vaccinated against COVID-19
BTS, the most famous K-pop group in the world, danced on down to the United Nations headquarters in New York City to advocate for and remind their legion of fans to get vaccinated. More than six million young people watched the live stream and immediately after their U.N. appearance, the BTS Army flooded Twitter with their own stories about getting the COVID-19 vaccine.
"Yes, all seven of us, of course, we've received vaccinations," band member J-Hope told the crowd of diplomats at the start of his speech. "The vaccine was a sort of ticket to meeting our fans waiting for us and to being able to stand here before you today."
More than six million people have watched the live stream from the United Nations General Assembly meeting on Monday, which is normally NOT a must-see event.
Young BTS fans tuned in to the bureaucratic event to see a glimpse of their favorite boys, but the cherry on top was hearing the group admit that they are all vaccinated. BTS fans are young, the same young people who think they're invincible and can't seem to bring themselves to go out and get the vaccine. If K-pop fans can tank a Trump rally with fake RSVPS, surely they can rally the world to get vaccinated.
BTS capped off their appearance with a performance of their new single "Permission To Dance."
But get this? They performed it at the U.N. building, which is quite possibly the most iconic thing that has ever happened at the geopolitical epicenter.
BTS appeared at the U.N. to support the organization's 17 sustainable development goals (SDGs), which include things like ending poverty and hunger and addressing climate change. The supergroup was on-hand to represent their genration and talked about Gen Z and how Zoomers are ultimately contributing to a more positive and healthy world through online communities, but it was their vaccination message that truly hit home with fans.
BTS fans — or, the BTS ARMY, as they're referred to — was so inspired by the speech and the performance that the hashtag #ARMYvaccinatedtoo began to trend on Twitter.
BTS fans filed the timeline on Monday night with photos and stories about getting vaccinated.
The cutest part of the ARMY's vaccination campaign is how many fans said they got vaccinated so that one day they could see BTS live in concert. If an aspirational BTS concert is what gets Americans to get off their ass and get vaccinated, so be it! Be like BTS, be like the BTS ARMY, and get vaccinated!