Buckingham Palace Pays 'Respect' To Aretha Franklin With Special Performance
by Valerie Williams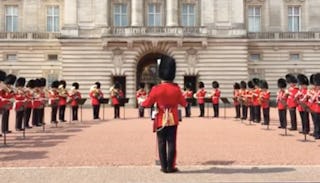 Image via Facebook/The Band of the Welsh Guards
Buckingham Palace paid tribute to the Queen of Soul on the day of her funeral
This morning, during the daily changing of the guard ceremony at Buckingham Palace, gathered spectators got a major treat when the Band of the Welsh Guards honored a Queen who hailed from U.S. soil. That's right — royal recognizes royal which is why the band played Aretha Franklin's career-defining song "Respect" before an incredibly lucky crowd on the very day she's being laid to rest.
RELATED: 14 Funeral Songs To Help Honor A Late Loved One
The Army in London shared the band's performance on their Facebook page today, right as Franklin's funeral was being held across the pond in Detroit.
"In the Army Respect for others underpins all that we do, so there was only one tune that would do for today's ceremony: the 1967 Aretha Franklin hit 'R.E.S.P.E.C.T.' a declaration from a strong confident woman who knows that she has everything," they write.
The changing of the guard took place just before the Queen of Soul's funeral began, so it was perfectly fitting that they played her song in that moment.
The band even gave a nod to Franklin as someone who influenced their music over the years. "The Band of the Welsh Guards are world famous for their musical versatility and professional performance and this morning paid tribute to another musical icon and one that has been of huge influence and inspiration to our musicians – Aretha Franklin, whose funeral was being held in Detroit 3,748 miles away, at the same time of the Queen's Guard Change," they write.
Twitter was definitely in love with the Palace's tribute to a different kind of Queen:
Buckingham Palace's amazing nod to Franklin wasn't the only special goodbye. More than 100 pink Cadillacs lined up outside her funeral.
Franklin's funeral will include speeches from Bill Clinton, Jesse Jackson, and Cicely Tyson along with performances by Stevie Wonder and Jennifer Hudson. A send-off fitting for a Queen.
This article was originally published on