Budweiser's Father's Day Ad Celebrates Stepdads In The Most Beautiful Way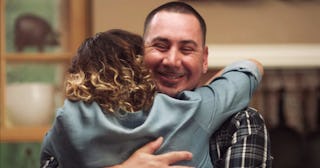 Budweiser/Youtube
Stepdads take center stage in Budweiser's latest tear-jerker ad
Holidays like Father's Day and Mother's Day, while truly special, can be complex for many people for many reasons — basically, families can be complicated. What isn't complex at all is how absolutely beautiful Budweiser's latest ad is, which honors stepdads and how they've stepped up for the kids who truly need them. Be warned, you will not finish this commercial with dry eyes.
Not all families look the same, and plenty of families don't fit the old-fashioned, "traditional" mold. The heartbreaking truth of the matter is that sometimes parents abandon their kids. It's beyond awful and goes against the laws of nature. Which is why, when stepparents step up and take their role seriously, it's a beautiful thing. As this tear-jerker commercial perfectly demonstrates.
Budweiser wants stepdads everywhere to know they deserve to celebrate this Father's Day as much as any dad. The commercial features three grown-up stepchildren talking about how they've been shaped by their stepdads' love and influence. Of course, it wasn't always easy, most kids resist a new parental figure entering their lives. But love always prevails, as these stories show.
By the end, each of the grown-up "kids" asks their dad to become "dad" legally by officially adopting them. And that's the point pretty much anyone watching will begin to wheeze-sob into their shirt (No? Just me?)
One of the adult kids featured in the video, Victor, says, "I didn't really have like a close relationship with my like actual dad, so when I met Mark, I was like, 'Oh, this is like what a dad is.'"
His stepdad Mark says, "Watching Victor grow, watching the person that he's become has been amazing, and to know that maybe I've had a little bit of influence on that has been awesome."
"On a day when the world celebrates fathers, Budweiser wants to shine an unexpected light on fatherhood. That's why this Father's Day, Budweiser is toasting stepfathers who love their stepchildren like their own," Monica Rustgi, vice president of marketing for Budweiser, tells TODAY.
This isn't the first time Budweiser has come through with an attack on our tear ducts. Back in April, they released an ad honoring the NBA's Dwyane Wade for his final season. Wade is known for being beyond generous and a stand-up guy who uses his platform and fame for good any chance he gets.
The video highlights the stories of five people Wade's kindness has impacted through the years: a young woman who lost her brother in the Parkland school shooting, a woman whose college tuition was paid by Wade, a man who grew up in a poor neighborhood and was inspired by the NBA star, and a woman who Wade took on a shopping spree after her family lost everything in a house fire.
Okay, Budweiser. You got us again. Things are downright dusty in here, aren't they? Bravo to all the dads who have stepped up — parents like you make all the difference in a child's life, the whole way through.