Budweiser's Ad About The American Dream Prompts Bigots To Lash Out With #BoycottBudweiser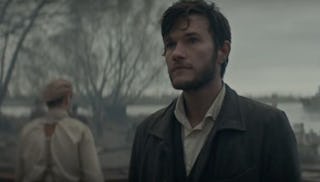 Image via YouTube
Budweiser's poignant Superbowl ad brings out the haters
The Super Bowl is as well known for its witty and creative commercials as it is for its high stakes football match-ups — and this year was no different. Melissa McCarthy killed it in Kia's "Hero's Way" commercial, there was a "Stranger Things" Season 2 reveal, and, you have to admit, even the NFL's baby legends commercial was pretty darn cute. But the ad we're all talking about comes from the "king of beers" — Budweiser.
The ad by Anheuser-Busch InBev shows the struggles the company's founder — Adolphus Busch — faced as an immigrant to the U.S. from Germany in 1857. After facing harrowing challenges and grueling conditions, Busch lands in America where he is met with xenophobia and hatred. Nonetheless, he presses on and ultimately lands in St. Louis where he meets Eberhard Anheuser, and the rest is, as they say — history.
The ad has all the makings of a killer Super Bowl ad. It's interesting, poignant, and gives you all the feels. With cinematic appeal and a highly relevant message, the ad boldly paints the essence of the American Dream for all of us — life, liberty, and the pursuit of happiness — while capturing the unique struggles many immigrants face in fulfilling that dream. It is one of those ads that seems to so effectively capture the essence of the human experience and what it means to be an American that it's hard to imagine anyone not instantly falling in love with the ad and its message.
But this is America 2017. Although the company says the ad was in the works for nearly a year and bills it as "the story of our founder and his pursuit of the American Dream," its release just days after the President's Muslim ban caused people to quickly turned to social media to voice there displeasure. Apparently, to some people, "the American Dream" doesn't apply to immigrants (never mind that many of us are immigrants or the descendants of immigrants).
Shortly after the ad aired online, people started complaining about it, calling it a condemnation of Trump's travel ban targeting seven Muslim nations.
Seriously? This is why we can't have nice things, people.
But, alas, don't lose hope in humanity just yet. Shortly after the#boycottbusweiswer hashtag started trending, social media users were armed with clap backs for the haters.
Budweiser wasn't alone in it's positive messages of love, equality and acceptance. Coke featured an ad with people singing a multilingual version of "America the Beautiful," and Audi touted its commitment to gender equality and equal pay for equal work.
Airbnb put together a last-minute spot in just a few days that shows people of different backgrounds with text that read: "We believe no matter who you are, where you're from, who you love, or who you worship, we all belong. The world is more beautiful the more you accept." The ad concluded with the hashtag #WeAccept, which was going viral by halftime of the Super Bowl.
As they say, the enemy of my enemy is my new favorite product. Or something like that. I don't know about you, but I went out and bought a twelve-pack of both Budweiser and Bud Light — and I don't even drink beer.
This article was originally published on