80-Yr-Old Man Dies After Being Assaulted For Asking Someone To Put On A Mask
by Julie Scagell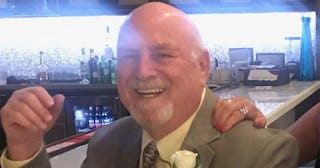 Lakeside Funeral Home
Sapienza confronted the man about not wearing a mask inside
Prosecutors in upstate New York have charged a man with criminally negligent homicide after he pushed an 80-year-old man over a request to wear a face covering. The man later died from blunt force trauma to the head.
Donald Lewinski, 65, of West Seneca, was taken into custody following an incident on September 26 at Pamp's Red Zone Bar and Grill in West Seneca, according to WKBW Buffalo. According to Erie County District Attorney John Flynn, Sapienza allegedly confronted Lewinski at the bar about how he spoke to the bar staff and for not wearing a mask as Lewinski brought out buckets of beer to a band playing outside. When Lewinski came back inside the bar, he walked up to Sapienza and pushed him "hard" to the ground.
"He was pretty much in an unresponsive condition right away. He went into a seizure right away there on the floor of the bar," Flynn said. Sapienza was taken to the hospital where he was unresponsive for four days. He died on September 30.
According to witness statements and video of the incident, there is no indication that either of the men were intoxicated or that they knew each other beforehand, according to Flynn.
The owner of Pamp's Red Zone released this statement: "We are all deeply saddened by the loss of Rocco. He was a part of our Red Zone family and loved by all. Our deepest sympathies go out to Rocco's family."
Lewinski's attorney, Barry Covert, said his client plans to plead not guilty, according to The Buffalo News. "It's certainly a tragedy that Mr. Sapienza passed away," Covert said. "My client and his family want to express their best wishes and sympathy to the family of Mr. Sapienza."
Lewinski is set to appear in West Seneca Town Court Tuesday night.
An obituary for Sapienza says he was husband to wife, Anita, and "loving father of David (Mary Beth), Richard (Karla), and late Paul Sapienza."
There have been many incidents in the news about people getting confrontational over being asked to wear masks — a very simple, effective way to stop the spread of coronavirus.
"You see it on airplanes. We see it everywhere where people are confronting one another and having arguments about not wearing masks. And it's unfortunate that we have an incident here now in Western New York where this escalated into a 80-year-old man passing away," Flynn said.
Sapienza's friends and family will be attending a Celebration of Life on Tuesday Oct. 6th to honor his life and mourn his senseless, preventable death.