Build-A-Bear Has 'Frozen 2' Bears And Your Kids Are Gonna Lose It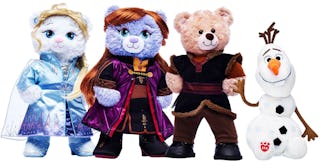 Build-A-Bear
Build-A-Bear's 'Frozen 2' bears are here
If your kids are counting the minutes until Frozen 2 comes out, you're gonna love Build-A-Bear right now. The makers of all of your little one's stuffed animal dreams just dropped a Frozen 2-themed collection and it's everything you'd hope it would be — and more.
Build-a-Bear Workshop launched the Frozen II line just in time for the much-anticipated sequel's release date of November 22. It will include bears, clothes, and accessories (because Olaf deserves bling) inspired by everyone's favorite characters Elsa, Anna, Kristoff, Sven (online only), and Olaf.
If you're ready to get your winter on, Build-A-Bear has you covered. Elsa has diamond-like sparkles in her white fur, and Anna is of the purple-sparkle variety. Both come with All Of The Accessory options like braided hair, capes, boots, a snowflake wristlet, and bodice skirts so they can fight any evil that lurks beyond the kingdom of Arendelle. They also both come with icy paw pads because you need those when living in the Frozen tundra.
Kristoff comes with accessory options like boots, pants, and a detailed vest and his trusty sidekick Sven comes in all of his glorious nakedness because he's perfect just the way he is.
You can get Anna and Elsa bears as they are for $29, or get the whole wardrobe mentioned above for $66. If you have a bear lying around in your house somewhere in its birthday suit, you can buy the Anna or Elsa dress for $18.50, so you actually have some money left over to go see the movie when it hits theatres. Olaf is selling for $29 (but you should probably get him a scarf or something) and Sven comes in at $35.
Build-A-Bear has come a long way since opening its doors in 1997. They offer tons of perks, including its famous "Pay Your Age" event which draws thousands to its stores every year. Build-A-Bear's collab with Disney has also been a huge success, not only bringing us The Nightmare Before Christmas collection this year, but also Toy Story, Moana, and Lion King, to name a few.
Disney has been keeping a lot of the details for Frozen 2 under wraps, simply saying, "Why was Elsa born with magical powers? The answer is calling her and threatening her kingdom," in the movie's description. But if you've seen the trailer you know it will be as awesome as the first — and a must-see holiday film.
Obviously, this would be quite the treat for your kids to get before the movie premieres but to be able to take their bear to the movies with them would be priceless (and an adorable photo op). Perhaps just leave them a "sorry you already got your gift" note in their stocking come Christmas morning? I'm sure they'll understand.