Build-A-Bear's New Pokemon Plushies Are Flying Off The Shelves
by Christina Marfice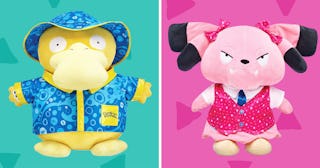 Build-A-Bear Workshop
Pokemon lovers are going to need Build-A-Bear's two newest additions ASAP
Build-A-Bear has never lacked in the cute plushie department. The entire store is about creating the perfect, adorable plush to represent yourself, your style and what you love. For Pokemon lovers, that's even more true — the stores already have a line of plush characters from the game/show/movies. And now, there are even more to choose from.
Build-A-Bear just added plushies of Psyduck and Snubbull to its Pokemon line, where the two newcomers join existing toy versions of Pikachu, Eevee, Bulbasaur, Charmander, Squirtle, Vulpix, Meowth, Jigglypuff and Alolan Vulpix.
Both new plushies are available online, where Psyduck comes with a raincoat and other goodies, and Snubbull is dressed in a vest and dress. Both have voice boxes and come with Build-A-Bear exclusive Pokemon trading cards when you order their online bundles.
While you can get the bundles online now, these guys won't be available in Build-A-Bear stores until May 3. So if you (or your kids) want to be first to get your hands on them, you'll want to place an order ASAP. They could sell out at any time.
In the meantime, you can stock up on all of Build-A-Bear's other plushies in the Pokemon line.
There's Piplup.
And Squirtle.
You can get a plush Charmander.
Or a Meowth, if that's more your thing.
Build-A-Bear's plush Eevee would look great gracing any room.
And, of course, so would Pikachu.
All of these guys are available from Build-A-Bear's website as web exclusive bundles that come with a bunch of cool clothes and accessories. Or, you can visit your local store to see which of them they have in stock to build and dress yourself.
Of course, these are far from the only must-haves Build-A-Bear has released lately. The company just released an absolutely gorgeous, sparkly, pastel unicorn earlier this month in honor of National Unicorn Day. If Pokemon isn't your thing, but unicorns are, you're going to want to get thee to a Build-A-Bear ASAP to pick up, like, 100 of these.
Other fandoms are represented, too, like the company's plushes of Toothless and Light Fury, two adorable dragons from How to Train Your Dragon. Those were released earlier this year, and we basically had to physically restrain ourselves from calling in sick to work so we could go to Build-A-Bear instead.
Basically, Build-A-Bear is a magical fun land that has everything kids (and a lot of adults) want. So if anyone needs us, we'll be staking our place in line for when the new Pokemon plushies hit stores. See you there, probably.
This article was originally published on