Your Kids Will Love This New Build-A-Bear From 'How To Train Your Dragon'
by Cassandra Stone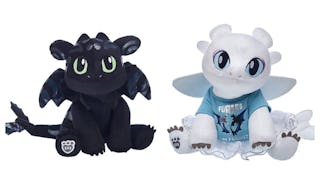 Image via Build-A-Bear
These dragons are absolutely adorable and a must-have for any little dragon trainer
If you've got any fans of How to Train Your Dragon at home, then they're probably super excited about the new sequel, How to Train Your Dragon: The Hidden World. Which is why your little dragon-lover needs this brand new, special edition version of Toothless — exclusively at Build-A-Bear.
The special edition stuffed dragon is beyond cool — it even has shiny, glowing fur. Which means he totally stands out from all the other stuffed dragons out there.
"Calling all dragon trainers! Soar to epic new heights with Special Edition Hidden World Toothless by your side!" Build-A-Bear wastes not one ounce of excitement on how cool their latest stuffed animal is. And honestly, this version of Toothless is the perfect partner to watch the final movie of the Dragon trilogy. This special edition version is $35.
If you're looking to give Toothless here a friend, fear not. Build-A-Bear's got just the thing for you (or your kid, we don't judge). Behold Light Fury.
Light Fury here comes with an adorable How to Train Your Dragon t-shirt (ahem, where do we get a "Furies in Flight" shirt in adult sizes?) and a sparkly tutu, which, come on, is pretty freaking cute. In fact, all of the tiny stuffed animal clothes at Build-A-Bear are damn adorable. This Light Fury is just $29.
Perhaps you're looking for a Valentine's Day gift for your little dragon trainer? Welp, once again, you're in luck. Because there's a super sweet Light Fury version that's perfect for the holiday of love.
This heart-holding Fury is also $29 and it's truly the perfect gift for the little dragon lover who stole your heart.
According to IMDB, How to Train Your Dragon: The Hidden World picks up with Toothless, who gets drawn away by the sudden and inexplicable appearance of Light Fury. When a new threat finds their way into Hiccup's crowded dragon utopia, both human and dragon alike are prompted to begin a search for the mythical ancestral home of dragons: a hidden world thought to exist only in myth. A tale of friendship, fate, and ultimately letting go.
The entire Dragon trilogy is amazing for many reasons — the animation is as beautiful as the stories are, and because it features an openly gay supporting character, Gobber, voiced by Craig Ferguson. The series also features a hero with a disability, Hiccup, who walks on a "peg leg." And Toothless himself flies with a prosthetic tail flap. It's very progressive as far as animated children's movies go — and it's awesome.
How to Train Your Dragon: The Hidden World hits theaters on February 22. So hurry up and snag your own Toothless or Fury at Build-A-Bear — there's no better time than today!
This article was originally published on