Build-A-Bear's Unicorn Is So Pretty You'll Want One For Yourself, Too
by Cassandra Stone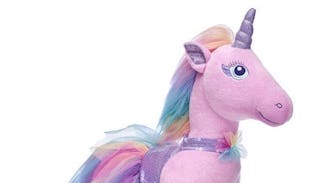 Image via Build-A-Bear
Just in time for National Unicorn Day on April 9th!
What's that? You thought the whole unicorn thing was just for kids? Well, these Build-A-Bear unicorns might be geared toward the younger set (and rightfully so), but they're so darn pretty you're going to be tempted to snatch one up for yourself, too. Because who doesn't want a magical, rainbow-skirted creature to snuggle?
Because Build-A-Bear knows what the people want, they're offering their beautiful Pink Unicorn Fairy Friend for sale again this spring, in addition to other adorable unicorns. One is simply not enough!
According to their site, the Build-A-Bear magical unicorn gift set offers no limit on the whimsy. And it's easy to see why — just look at that beautiful dress! The rainbow fur adds the perfect touch. This fairy unicorn costs $25.
There's even a Beary Fairy Friends Pink Unicorn House available for purchase, because your magical friend is going to need a roof over its gorgeous rainbow head!
The entire Beary Fairy collection is utterly adorable, and perfect for the little one in your life who loves to create whimsical worlds with their imagination.
Back to unicorns, though. It's time-sensitive, after all, with National Unicorn Day coming up on April 9th. It's a day for celebrating unicorns internationally — according to Checkiday.com, unicorns are the "mythological animals that look like horses with horns on their foreheads." Although the holiday is observed all around the world, it has special significance in Scotland, where the unicorn is the national animal and legends of unicorns trace back for thousands of years.
What better way to celebrate than by perusing these adorable stuffed unicorns with your favorite kiddo in tow?
The Candy Hearts Unicorn is a brighter, bolder pink with a candy heart print on each foot and a silver, sparkly horn. It's $22 and extremely cute.
The Swirl Unicorn Gift Set is perfect for the little party person in your life — that skirt just screams "I'm here for the snacks and the music," in our opinion. And check out the little hooves with the candy cane print! The bow is also the perfect touch.
If stuffed animals aren't enough, Build-A-Bear offers other ways to get your unicorn on. Here's a purse for your furry friend, for just $6.
And some cozy-looking slippers for your human friend, for $15.
If this gaggle of unicorn swag is still not enough for your senses, you can also add magical 3-in-1 Fairy Sounds or a Sugar 'n' Sparkle scent to any of the majestic creatures so that you have a total unicorn sensory experience.
As always, the outfits and accessories for each stuffed animal are an extra cost — but that rainbow dress on the Fairy Unicorn is so pretty it's almost a mandatory purchase, right? Right, that's what we'll be telling ourselves when we stand in line with our arms full of unicorn gear at the closest Build-A-Bear.
This article was originally published on