Burger King Trolls Chick-Fil-A With Chicken Sandwich That Benefits LGBTQ Group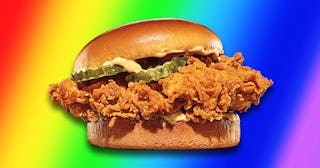 Scary Mommy and Burger King
Burger King is heating up the fast food chicken sandwich war with a Pride Month promotion
The fast food chain chicken sandwich war continues. As every chain on the planet competes to have the newest and best chicken sammie on its menu, Burger King just sweetened its deal a little — it announced that for every Ch'King chicken sandwich it sells during Pride month, it will make a donation to an organization that supports LGBTQ+ rights.
Burger King announced the move in a tweet, writing, "the #ChKing says LGBTQ+ rights! during #pride month (even on Sundays) your chicken sandwich craving can do good! we are making a donation* to @HRC for every Ch'King sold."
Burger King followed up that tweet with a little more information: For every Ch'King chicken sandwich the chain sells between June 3 and June 30, it will donate 40 cents to the Human Rights Campaign, an organization that "envisions a world where every member of the LGBTQ family has the freedom to live their truth without fear, and with equality under the law," according to their website.
Oh, and in case you missed it, Burger King also threw some subtle shade at Chick-fil-A in that tweet, by writing that you can get your Ch'King "even on Sundays." As you probably already know, Chick-fil-A is famously closed on Sundays. The chain is also famous for making donations to anti-LGBTQ+ lobbyists, politicians, and organizations.
It was the dig at Chick-fil-A that got some supporters' attention online.
https://twitter.com/jetpack/status/1402302843424366602
However, this promotion doesn't make Burger King immune from criticism about using Pride for marketing. The fact remains that if all of the companies who use Pride to sell their products in June actually used their money to lobby against anti-LGBTQ+ policies and legislation, it would be extremely difficult for politicians to pass any.
Instead, many of the companies that pay lip service to Pride in June actively spend their money to support politicians and policies that seek to harm the LGBTQ+ community. Burger King is one of them. From 2004 to 2014, its corporate PAC spent more than 90 percent of its donations on Republican candidates, including some, like Florida Governor Rick DeSantis, who are actively anti-LGBT. In fact, DeSantis just signed one of the most discriminatory anti-trans laws in the country.
On the surface level, it seems like a funny joke that Burger King is taking aim at Chick-fil-A during Pride, and the donations to the Human Rights Campaign are great. But at the end of the day, Burger King has used its profits to harm the LGBTQ+ community just like Chick-fil-A has — it's just been less open about it.