'He Picked The Wrong House': 82-Year-Old Bodybuilder Fights Off Would-Be Burglar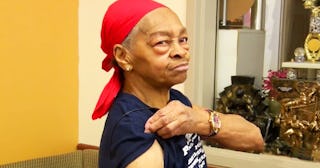 WHAM
82-year-old Willie Murphy said this burglar "picked the wrong house"
When a burglar broke into the home of 82-year-old grandmother Willie Murphy, he probably didn't expect much of a struggle. Little did he know, however, that Murphy, a resident of Rochester, New York, lifts weights at her local YMCA nearly every day, and might just be the toughest grandmother in the area.
"It's kind of dark, and I'm old, and I'm alone," Murphy said while recounting the story of the scary break in to reporters.
"But guess what?" she added, showing off her bicep as she spoke. "I'm tough."
That might just be an understatement, and no one knows it better than that would-be burglar. Murphy said she was getting ready for bed just after 11 p.m. when she heard him pounding on her door, begging to be let in. He kept yelling that he was sick and needed Murphy to call an ambulance for him. While she called 911 for the man, Murphy refused to let him into her home, obviously. Apparently, he didn't like that, because he broke her door down.
"I hear a loud noise," she said. "I'm thinking, 'What the heck was that?' The young man is in my home. He broke the door."
Joke's on that burglar though, because Murphy wasn't about to let him go without a fight. The bodybuilding grandmother grabbed a table and started beating the man with it until the table broke. Then, she ran into the kitchen and grabbed a bottle of shampoo, which she poured into his eyes while he was still down on the ground. Then, the grabbed a broom and started hitting the man with it. She said he was still fighting back at this point, but he was clearly no match for her.
"He picked the wrong house to break into," she added. No kidding.
Murphy continued, "At that time, the police arrive on the porch, and the house is already open so they come in. He's laying down already because I had really did a number on that man. I'm serious. You want to know something? I think he was happy when he went in the ambulance."
It sounds like any burglar would be happy to get away from Murphy. You don't mess with that particular grandma — or any grandma, because they're always tougher than they look.
When she returned to the YMCA where she works out, Murphy reportedly received a "hero's welcome." She hopes her story inspires all kinds of people of all ages to start working out, and she was happy to get back to the weight room, where she can deadlift 225 pounds.
This article was originally published on