'Bus Don't Move' Song Parody Is Hilarity For A Cause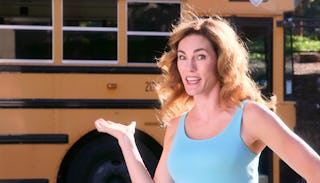 Every year more than 100 children are killed walking to school. Another 25,000 are injured. And half of the 31 pedestrians killed while boarding a bus are children between the ages of five and seven. Yes. You heard that right. Children are being killed and injured on the way to school every year.
So what's the problem? How is this happening? It's not the bus drivers, it's all about the other drivers. People speeding through school zones. People talking on phones, texting and generally not paying attention when they're driving. People passing school buses when the lights are flashing and the stop arm is extended. Not only is the latter illegal, it's incredibly dangerous for our kids.
I love the song "Bust a Move" and thought it was just perfect song to bring this message home. I mean, how could I resist a line like, "It's big and yellow, you say, 'Hello, come pick up my kids you fine fellow,'" when singing about a school bus? I couldn't!
It's time to spread awareness about this tragic issue. So please, share this video and remind people that school is in session and kids are walking to school and getting on the bus. Remind them to pay attention when they're driving, and of course, if you see a bus—DON'T MOVE!
This article was originally published on