Bus Driver's 'Bucket Of Books' Is An Idea Every School Should Try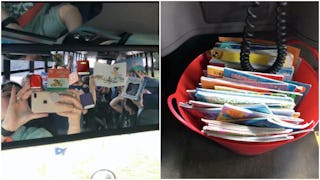 Image via Facebook/Arkansas Department of Education
They even have a 'Special Guest Reader' on Fridays
Any opportunity a kid gets to read is a good thing. While schools and parents try to do their part to get kids reading in school and at home, one clever bus driver found a creative way to get them reading on the bus — and it all happened by accident.
"Special Education teacher Julie Callison of the Drew Central School District in Arkansas found out how much some of the students like to read after she was cleaning out books in her classroom one day to take on vacation and brought them with her on the bus ride home.
"One of the kids had a little too much energy so I asked her older brother who was sitting next to her to read her a book from the bag I had," she told Scary Mommy. Once other students saw the books, they asked why they couldn't do the same and the rest, they say, is history.
"This year I added a bucket of books on my bus to encourage students to read," The Arkansas Department of Education posted on their Facebook page of Callison. "The way this works is, when students get on the bus they can get up to three books. After they read those, they can share with students around them, then put them back in the bucket on the way out the door. I have older students reading to younger students, and younger students reading to older students," the post continued.
Callison tells us her bus has all ages — from Pre-K all the way up to seniors. She found it's not only a good way to keep students practicing their reading skills, but also, helps them stay focused. "Sometimes my kids can be off the chain," Callison tells Scary Mommy. "They have a lot of energy, especially if the weather was bad that day and they've been cooped up in classrooms. This is a great way for them to focus their energy on something positive."
On Friday afternoons she also implemented a 'Special Guest Reader' which is usually a high school or middle school student who picks out a book and sits on the front seat reading it to the entire bus, which she says the students really enjoy. It's such a simple, yet powerful way to keep kids engaged and helping out those around them, regardless of age or friend group.
Callison said she can't believe all the attention her idea has received since the district posted it online. A senior that Callison says the kids look up to has been helping her with the project and keeping students posted on their new-found fame. "He's been keeping kids updated on the number of shares we've received and also helping to announce guest readers and other information," she tells us.
The teacher says she's heard from other bus drivers that have said they're going to implement a book club of their own on their routes. "It's something kids of all ages have gotten into," she shares. "The older kids may not always like to read themselves but they do enjoy reading to the younger students. It's been really fun for all of them."