Busy Philips Says James Franco Assaulted Her While Filming 'Freaks And Geeks'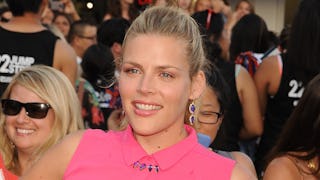 image via Frank Trapper/Corbis via Getty Images
In her memoir, Busy Philips says "bully" James Franco assaulted her on the set of Freaks and Geeks
Busy Philips' upcoming memoir, This Will Only Hurt a Little, promises to be explosive in so many ways. But excerpts obtained by Yahoo Entertainment are already revealing one of those ways: In the book, Philips claims actor James Franco assaulted her on the set of Freaks and Geeks.
Philips describes a day shooting the show in which the script called for her character, who was dating Franco's character onscreen, to gently hit Franco in the chest. When she did it, though, she says Franco didn't realize the action was written into the script, and he exploded.
He grabbed both my arms and screamed in my face, 'DON'T EVER TOUCH ME AGAIN!'" Philips wrote. "And he threw me to the ground. Flat on my back. Wind knocked out of me."
That's not all Philips had to say about Franco. She described him as a "fucking bully" when they worked together on Freaks and Geeks. Um, based on that story, that sounds about right.
This isn't the first time Franco has faced allegations about his behavior as an actor. Early in the #MeToo days, he was accused of sexually assaulting a young actress who went to him for advice. He was also accused of using his film school to manipulate young female actors into appearing nude in his movies for next to no pay. And he was subsequently dragged for wearing a "Time's Up" pin to the Golden Globes, before he pretty much went into hiding for the rest of the 2017/2018 awards season.
Philips writes that she didn't report Franco's behavior because he was forced by the show's producers and director to apologize to her the next day.
While Busy Philips' accusations aren't sexual, they still highlight the abuse women have long faced in Hollywood at the hands of successful men. Franco was never punished for assaulting her; in fact, he continued to star on Freaks and Geeks and enjoyed a successful Hollywood career after it was canceled.
While stopping rampant sexual assault in the entertainment industry (and beyond) is an important goal of the #MeToo movement, it's crucial to recognize that women are abused by powerful men in many other ways. True equity means it all stops.