Delta Hears It When Busy Philipps' 9-Year-Old Rebooked On Separate Flight
by Julie Scagell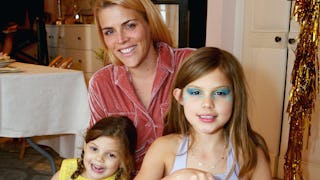 Image via Getty Images/ Rich Fury
Delta initially tried to book Phillips' 9-year-old on a separate flight from her family
Actress and mom-of-two, Busy Phillips, had a self-described "rocky start" to her family holiday when she was traveling with her two daughters this week. Originally scheduled to fly together, Delta canceled and subsequently rebooked her and one of her daughters on separate flights, leaving the understandably frustrated mom with a big mess on her hands.
The soon-to-be E! talk show host was traveling with 9-year-old daughter Birdie Leigh and 5-year-old Cricket Pearl and instead of rebooking all of them on a new flight together, Delta booked Birdie on a different flight connecting through an entirely different location.
"Thanks for cancelling my flight and then rerouting us and separating my MINOR child onto a different flight than mine and having a 2 HR call time wait! You are terrible!" Busy wrote to in a now-deleted tweet. Busy later explained on her Instagram Story that Birdie was rerouted on a flight to Detroit, while she and Cricket were going to fly to St. Paul, according to PEOPLE.
"We apologize for the inconvenience this caused Ms. Philipps. Delta worked quickly to resolve the rebooking issue and coordinated directly with the customer to adjust their travel," Delta said in a statement to Fox News.
Apparently, the potential separation happened because Birdie was booked under a separate itinerary so the airline wasn't aware they were flying together, thus rebooking them on separate flights. But come on, Delta, why would a parent actively choose to fly separately from their nine-year-old child? Of course she wasn't going to let her fly alone.
After getting things straightened out, Phillips wasn't able to get a flight for the entire family until 2:30 that morning, which any parent knows would be a complete and total nightmare.
Phillips hasn't had the best luck traveling this year with her family. Earlier this year, she made a desperate plea on social media when she accidentally left her daughter Birdy's prized teddy bears, Radar and Flat Bear, in Hawaii.
"We're all healthy, made it back in one piece," she said on Instagram. "They're just stuffed animals. She'll recover. She's resilient. I don't know if I will. I know it's just a mistake and these things happen but fuck, it's the worst when you're a parent and it's your responsibility to keep everything straight."
Delta refunded the unused portion of the Philipps' flights, the airliner said in a statement and the family eventually made it to their intended destination, all together.
Here's hoping their next family trip goes down with minimal drama (because we all know drama-free vacations with kids are an impossibility).