This Fun Allowance App Will Have Your Kids Begging To Do Chores
by Christina Marfice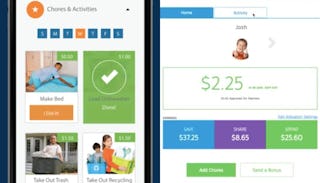 Image via BusyKid
While the debate rages on about whether screen time is good or bad for kids, we can at least compromise by giving them apps that might teach them a thing or two, right?
While allowance has long been a tool parents have used for teaching kids the value of hard work and money management, tossing your kid a weekly five- or ten-dollar bill leaves out a lot of modern financial education. Good thing there's an app for that.
A new app called BusyKid is using technology to modernize the ancient system of allowances, allowing kids to have their weekly chore wages direct deposited and giving them tons of modern money management options, like saving their money, donating it to charity or even investing it in the stock market.
BusyKid will even issue your kid a prepaid debit card, loaded with their allowance payments, meaning they can make purchases in stores or online by swiping their plastic. In our increasingly cash-free society, that is something they're going to have to learn how to do. Why not start 'em young?
Within the app, parents can use their portal to add chores — everything from folding laundry to unloading the dishwasher to even bonus allowance payments for getting good grades — and the amount of allowance each chore is worth. Parents get to set when payday is, approve chores that kids have done and see when and where kids are using their money.
On the kid portal, kids can mark off chores they've done, count down to payday, manage their money by choosing how much to put in the "spend," "save" and "give" categories, buy gift cards to their favorite stores, donate to charities, or even invest in stock.
This thing makes budgeting and money management look so fun, I kind of wish there were one for adults — I'd use it. And since kids tend to be glued to their devices all the time, meet them where they live with some sneaky life lessons designed as fun. This is a win-win.
BusyKid costs $14.95 per family per year, and can be used on any device: desktop, Android or iPhone.
This article was originally published on