You Can Stop Buying Your Mattresses At A Mattress Store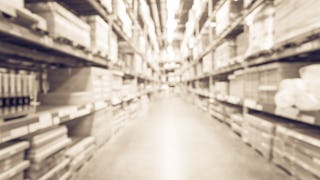 Trong Nguyen / Shutterstock
When my husband and I were still dating but moving in together, we decided to upgrade from my tiny full-sized bed to a queen. We waited until the next federal holiday and hit up our local mattress retailer for a deal. I wanted something soft and cushy and lay on every mattress that looked like it had the potential to feel like a big ol' marshmallow.
Once I was done lounging all over the merchandise, we made our pick and headed home with a brand new mattress — and also with our pockets over $1,000 lighter.
You know what sucks about paying a grand for a mattress? Waking up with back pain every single morning of your life and spending $1,000 to feel like someone's Memaw while you're getting out of bed. I can't believe we spent so much money on something that I actively complained about for years.
After my first pregnancy, I knew I wanted to upgrade to a king before I had another baby. My belly, my husband, and I did not all fit comfortably in a queen. We did some research and started toying with the idea of buying a mattress online. Buying one without trying it out first made me nervous, but I also took our old mattress for a test-lounge and that didn't end so well.
After reading reviews and doing a bunch of research, my husband and I settled on a king-sized foam mattress that we found on Amazon for a quarter of what we paid for our queen. It had free shipping and tons of favorable reviews. A couple days later, a box that was much smaller than a mattress arrived at our door. We opened it up, and it slowly fluffed itself up into a giant, magnificent, sleep cloud.
My first night of sleeping in our new bed was the most restful I had in years — and I was really pregnant at the time. So pregnant. All of the pregnant. Our mattress is now a couple years old, and we have gotten my sister and her husband to buy the same one. When our son graduated from his toddler bed to a bunk bed, we bought two of these mattresses in a twin size. He is the happiest, coziest boy on the block now.
When you go to a mattress store, it's like going to a car dealership. You're paying a lot of overhead costs and a commission. Take out the middleman and cozy up to my favorite shopping liaison — the internet.
This post contains affiliate links, which means we receive a small portion of the sale if you make a purchase using these links.