Buying A House Tested Our Marriage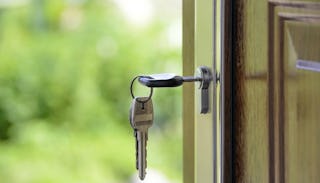 WDNet / Pixabay
Mel and I bought our first home about three years ago, and it was a huge accomplishment for us. We were both really excited to be homeowners, but honestly, it tested our marriage in unexpected ways.
Two months after we moved in, during a snow storm (unusual weather for our part of Oregon) our furnace went out. Mel was seven-months pregnant. We'd been married for about nine years at this point, and that whole time we'd rented. The best thing about renting is that when something breaks, you just call the landlord, and they handle it. This is assuming that you have a landlord who doesn't suck. But all in all, fixing something major, like the furnace, had never really been my problem. So when that sucker went out, I had no idea how to handle it.
Mel called me at work to tell me the bad news, "It's just blowing out cool air," she said. "It's only 50 degrees in here. You need to do something."
In the past, when she said, "You need to do something," I knew exactly what to do. But I was the landlord now. I was the owner. I was the beginning, middle, and end.
Suddenly I was freaking out.
We'd used all of our savings for the down payment on the house. To save up for a home, we'd dumped our credit cards so that we could do a better job of staying within our budget. I had no idea how to fix a furnace, and I didn't have money to pay for someone to fix it. And I think the scariest part of all this was that I felt that because I was the man of the house I should be able to figure it out.
But the fact is, I struggled to put together Ikea furniture, let alone fix anything that was like, you know, really broken…like a furnace. I'm not all that mechanically inclined. I don't think I've ever fixed something without swearing a lot. My father wasn't around when I was young, so I never had someone take me under their wing and teach me how to fix a car. But it seems like all dads should be able to fix anything that comes up in a home, as if it is some inherited gift.
Right?
Well…not exactly.
Gender roles came out the most when we bought a house.
Mel and I both started to make particular assumptions about each other's jobs, obligations, and abilities the moment we became homeowners. It seemed like if something ever broke (kitchen sink, light switch, garage door) I was required to handle it because I'm the man. And if there was ever a stain on the carpet, or on the furniture, or a room needed redecorating, I assumed Mel would handle it. But the thing is, neither of us were all that good at all those tasks. And honestly, I think this was the most unexpected part of buying a home.
We argued a lot about this stuff at first because we assumed that I was qualified to do this or that because I was the dad, and she was qualified that or this because she was the mom. But the fact is, I didn't know how to fix shit. And Mel, she wasn't all that good with stains or redecorating or whatever.
When we first moved in, our son stained our carpet with a red popsicle, and Mel became incredibly frustrated trying to get it out. I came home from work one day to find her on all fours scrubbing with one hand, the other holding a phone, probably talking to her mother, trying to figure out how to get rid of the stain. Not that the kids hadn't stained carpet before, but now that we owned the carpet, it seemed like the stakes were higher. I could see failure in her eyes.
Eventually I found a YouTube video that showed how to use steam to remove it. And while the problem was solved, I could tell that Mel felt like she'd failed at something significant because she couldn't figure it out.
I felt the same way as I crouched down on a stool in my garage next to our broken furnace, chatting with my brother-in-law on the phone, trying to troubleshoot, and feeling like a failure as a husband and father because I couldn't do it. That furnace looked like a confusing mix of wires and pipes, and I just waited to cause a spark that would set the whole house on fire. But at the same time, I felt like I should be able to figure it out because I'm a man.
Nothing I tried worked, and eventually Mel dug around in our housing documents and realized that the furnace was covered by our home warranty. So in the long run, she ended up solving the problem.
We've had quite a few of these situations over the years, where one of us solved a problem that one might presume should have fallen onto the other's plate because of their gender. But now, after a few years of living in our own home, we've started to realize that the best way to handle things is to work with our strengths.
And I think that's the best thing we've learned about owning a home. Rather than making assumptions about who really should be able to do something, we have started to come together and discuss whose skill set is best-equipped. And if neither of us has the skill, together we learn how to do it. And when I think about that, I realize that buying a home really could have pulled us apart, but instead it's caused us to work more as a team.
This article was originally published on