Buying For A Tween? This Gift Guide Has You Covered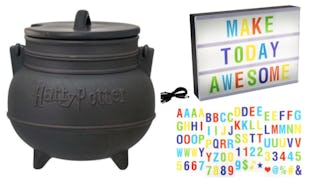 Images via Walmart
These gifts are sure to please even the pickiest tween
Buying for a tween can be tough. They aren't yet fully formed teenagers (though they sometimes act like it) but they're not little kids anymore either, so trying to find gifts that aren't too babyish nor too mature can present a challenge. Have no fear — we promise this list will have all of the things even the pickiest of big kids will love.
Walmart has some awesome products and with their low prices, these won't break the (already fractured by the holidays) bank.
Keep your tween's creative juices flowing with this ultra edgy Wreck This Journal. According to the description, you'll find "prompts for painting, shredding, transforming, and unleashing your creativity." It comes with other ideas as well so in case your brooding almost-teen needs some inspiration, it will be found in the pages of this journal.
This is a great way to connect mothers and daughters and can be a safe place for them to write down how they're feeling, since any mom of a tween girl knows it can be hard for her to come out and say what's on her mind. This journal in particular has blank pages as well as questions where both moms and kids can write their answers. Bonus? It will make a great keepsake to look back on one day.
You may think these are so 2017, but Squishies aren't going away anytime soon. They are still one of the most collectable toys for tweens and the beauty of this bunch is they're DIY, so the possibilities are endless.
This Potter soup mug and spoon is the perfect gift for Potterheads looking for a wizardly way to eat their dinner. Made to look just like a cauldron from a potions class at Hogwarts, you can't help but put a smile on your tween's face when you serve some piping hot soup or homemade Mac-N-Cheese from one.
Inspired by cinema marquee signs, this light box that comes with multi-colored letters can spell out whatever's on your moody tween's mind — and it's super Instagram-worthy. Now your kids can tell you to "STAY OUT" in brightly lit letters — fun!
Muggles, rejoice! LEGO has come out with a replica of the Great Hall and it's ridiculously cool. They've left no stone unturned — your kids will build the reversible house banners, the Grand Staircase tower with a spiral staircase, potions room, treasure room, sorting hat, Mirror of Erised and more. It also comes with ten minifigures and a couple buildable characters as well.
If your tween has a phone, odds are they've asked for a Popsocket. According to their description, "PopSockets offer a secure grip for texting or snapping the perfect selfie, and propping your phone up for catching the latest video." Once you see how handy they are, you might want one of your own.
If you're got kids interested in coding, the Star Wars Droid Kit is the perfect way to start. Kids can create their own R2D2 Droid and bring it to life. Using electronic blocks and the Droid Inventor app, they can control their Droid, and using block-based coding, give it new abilities and take it on over 20 missions.
The Ripster's 360-degree inclined casters and a pivoting deck "provide a unique carving motion, for the thrill of surfing and snowboarding on dry land." These puppies have been around for a few years but are still at the top of kids' lists. Just make sure you buy a helmet to go along with it.
There is a 100 percent chance these light-up unicorn slippers will be a hit under the tree. It's impossible to wear these and be moody, so it's perfect for tweens. Go ahead, light up someone's life. One size fits up to U.S. women's size 12.
We are a participant in the Walmart.com Affiliate Program and may earn fees by linking to Walmart.com and affiliated sites.
This article was originally published on