Cadbury's Hiring A Chocolate Taste-Tester And We Volunteer As Tribute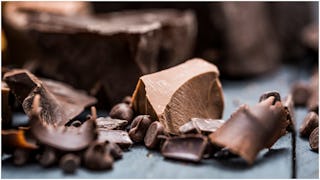 Image via Mike Kemp/Getty
You can make money as a chocolate taste-tester because there's still some good things left in this world
Is there really anything better than going to town on a bar of chocolate? Surprisingly, yes, it turns out there is. You can actually earn some decent money WHILE you chomp down on all of that chocolate-y goodness. No, I promise this is not a prank.
Here's the whole deliciously sweet deal. Mondeléz International – the company behind Cadbury, Oreo, and Milka – is hiring part-time chocolate taste testers in England. The position asks for 7.5 hours of your time every week, pays you $14/per hour, and the job description revolves around you eating chocolate and then offering your feedback.
The main requirements? You need to have "a passion for confectionary and taste buds for detection" and be "eager to try new inventive products." So, cool, count me in immediately. Overqualified candidate right here.
If you feel like your chocolate feedback might not be quite up to par, never fear. The company promises to help you "develop your taste buds" during an employee training session. That training session hopefully involves eating a whole bunch of chocolate and then taking a nap afterwards.
This isn't the first time that Mondeléz International has offered up this dreamy job. Last year, they put out a call for chocolate taste-testers and a whopping 1,500 applications were sent in during the first 24 hours, according to The Sun. A total of 4,000 people ended up applying for the position and the job advertisement was the fifth most viewed on LinkedIn. I guess the bottom line is that people really love to get paid to do what they love.
"Chocolate tasters are vital to our business as their input helps us to perfect our products before they hit the shelves," Afsha Chugtai, who oversees the tasting panels, told The Sun. "I can't wait to see who makes the cut this year to join our 4,000 chocolate-loving employees across the UK."
Are you having a sudden hankering to quit your job and embrace your true passions? Chocolate taste-testing isn't the only random, truly delightful gig out there. Back in August, there was a job posting for an attendant who would look after an island full of cats. Yup, an island of cats.
"A very special position and living circumstance on offer on a little Greek island called Syros (a small paradise no less!) for a mature and genuinely passionate cat lover who knows how to handle many cats and would love their company!" the listing read.
Again, pretty overqualified for that one.
So, yeah. I feel like we should all probably hit the pause button at work until we are handed large amounts of chocolate and a whole bunch of fluffy cats. Preferably while being transported to a really pretty island in Greece.