Caitlyn Jenner (Formerly Bruce) Is On The Cover Of Vanity Fair And She Looks AMAZING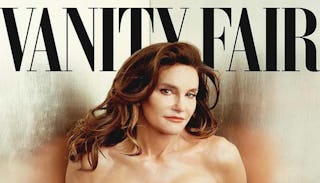 Caitlyn Jenner (formerly Bruce) is on the cover of the July 2015 issue of Vanity Fair — and she looks INCREDIBLE.
Okay, legs anyone? I guess we should expect no less from a former Olympian. And now we should all be convinced that all moms need an Annie Leibovitz shoot in their lives. Can you get over how much she looks like Jessica Lange? Maybe I'm just babbling now — but holy gorgeous! I'm floored. From Vanity Fair:
Speaking publicly for the first time since completing gender transition, Caitlyn Jenner compares her emotional two-day photo shoot with Annie Leibovitz for the July cover of Vanity Fair to winning the gold medal for the decathlon at the 1976 Olympics. She tells Pulitzer Prize–winning V.F. contributing editor and author ofFriday Night Lights Buzz Bissinger, "That was a good day, but the last couple of days were better. . . . This shoot was about my life and who I am as a person. It's not about the fanfare, it's not about people cheering in the stadium, it's not about going down the street and everybody giving you 'that a boy, Bruce,' pat on the back, O.K. This is about your life."
Oh, but we are cheering, Caitlyn. Apart from the fact that this cover is beautiful, it's also such a testament to the metamorphosis that happens when you are allowed to be your authentic self. This may not be a "stadium" but we can almost hear the fanfare from our computers. This is your life, Caitlyn – and you're taking it and we are all cheering. Now we just want to figure out how we can score our own VF shoot. Seriously, moms — we all need an image like this in our lives.
You can get your hands on the 22-page cover story when the July issue goes on sale June 9.
This article was originally published on