Husband Gives Wife Cake Shaped Like Amazon Package And We Want One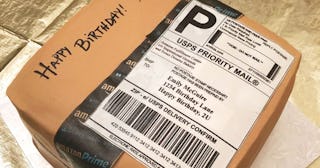 Courtesy of Emily McGuire Photography
This husband's Amazon package cake is the best gift ever
Am I the only one who orders from Amazon so often it's like Santa's visiting six days a week? Of course I'm not. We're all total Amazon addicts and those beautiful boxes with their smiley logo are like, the best thing to ever arrive on your doorstep. That's why we're loving one smart husband's surprise for his wife — a cake that looks exactly like one of those magical special deliveries.
Photographer Emily McGuire is one of us. That is, an Amazon fan who orders from the online retail giant so frequently that her husband thought a birthday cake made to look identical to one of her weekly packages would be a fun idea.
He was not wrong.
"When you order a lot from Amazon you get an Amazon cake," her caption reads. And HOO BOY does it look realistic. So much so that my initial reaction was that I would be irrationally annoyed to get this cake only to realize it's not an Amazon present, but a cake.
Of her husband's very dead-on surprise, McGuire tells Scary Mommy, "I thought it was hilarious and very sweet of him."
Honestly, it was. A cake that is really a tribute to one of our favorite things ever? Give us a fork. And it looks so REAL.
In fact McGuire told The Stir, "In that moment, I knew my husband 'gets me,'" and hello, preach. Her photos were shared by other parenting pages on Facebook and the comments sections legit filled the heck up with other moms who can relate to McGuire's undying love for the online retailer who literally has every single thing we need. Our spouses can try with all their might to catch our eye with any number of jewelry gifts or surprise trips but let's be real here — can anything top the excitement of one of those distinctive brown boxes arriving on the doorstep? Especially when it turns out to be a fabulous cake?
Spoiler alert: the answer is no.
McGuire says the cake was "delicious" and we have no doubt, but our overriding feeling is one of mild disappointment that the box wasn't a real box full of untold Amazon treasures like fun pool floats and beauty products. Maybe next time she can get a fun gift AND a cake. That would be a truly solid mom surprise we can all get behind.
This article was originally published on