Boy Dying Of Cancer Asks For Racing Stickers To Cover His Coffin
by Julie Scagell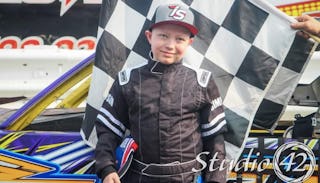 Image via Studio 42 Photography
The 11-year-old is asking for racing stickers, his favorite sport
When Caleb Hammond's family decided to stop treatment for his cancer and bring him home, he had one wish: To collect as many racing stickers for his coffin as he can before he dies.
According to Hammond's GoFundMe page, in just over a year since he was diagnosed with B cell Acute Lymphoblastic Leukemia, the 11-year-old has had dialysis, heart failure, was put into a medically induced coma, had a bone marrow transplant, and spent hundreds of days in the hospital away from family and friends.
Unfortunately, doctors told his family the cancer treatments at Blank Children's Hospital in Des Moines, Iowa weren't working and they made the difficult decision to bring him home to Oskaloosa.
"There were some other options left, but they were going to make him sick and do harm to his body," his uncle, Chris Playle, told the Des Moines Register. "They decided to call it quits, and come home and be a kid and do the things he hasn't been able to do the last year and a half."
Caleb has been an auto racing fan since he was two, his uncle said. He often went with his uncle to the speedway and even met NASCAR driver Kasey Kahne during an event years back. Because of this lifelong love, he's asking people to send him racing stickers to be placed on his casket.
The racing community heard about Caleb's story and has stepped up big time to get him everything he's asked for:
Team Kids With Cancer Racing 46-7, a nonprofit for children with cancer, even arranged for the sweet boy to get behind the wheel of a stock car for a six-lap heat at Southern Iowa Speedway this past weekend.
In addition to being a kid, playing Legos, and collecting these stickers, Caleb is spending time with those who love him the most. "We're just trying to get some racing in and trying to do everything we can to keep the spirit up," Playle said. "The support and everything, all the cards he's receiving in the mail, it's been overwhelming."
Thankfully, Caleb's received plenty of racing stickers, so the family is asking that no more be sent. Instead, anyone wanting to help can donate towards Caleb's medical and funeral expenses at the family's GoFundMe page and his mother's GoFundMe page.