California Guarantees All Kids Will Get Fed And Ends School Lunch Shaming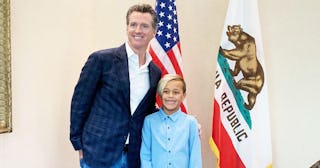 Courtesy of Kylie Kirkpatrick
The bill was passed with the help of student Ryan Kyote who paid off his class debt this summer
New legislation has just been passed in California, banning schools from serving cheaper, "alternative" lunches, ensuring all students receive a "state reimbursable meal of their choice, even if their parent or guardian has unpaid meal fees."
The bill, authored by state Sen. Robert Hertzberg, was signed into law by Governor Gavin Newsom over the weekend. During his speech, Newsom called out the efforts of one ten-year-old boy. Ryan Kyote made national headlines this summer after he donated $74.80 of his allowance money to pay off the school lunch debt for his class. The entire school lunch debt was around $700 but Ryan wanted to help and thought he could do his part by paying off his class debt. His act of kindness has paid off.
"I want to thank Ryan for his empathy and his courage in bringing awareness to this important issue," Newsom said in a news release. "Creating a 'California for All' means ensuring schools are inclusive, accepting, and welcoming of all kids. These bills help move us closer to that goal."
Ryan's family said they were "pretty emotional" during the signing. "We are so grateful to Gavin Newsom for keeping his promise when he met with Ryan on August 1 and told him if that bill got to his desk he would sign it, and he did," Kyote's mom, Kylie Kirkpatrick, tells Scary Mommy.
School lunch debt has been in the headlines more and more as school systems struggle with large food debts and families face similar battles being able to afford for their kids to have meals at school. While many states have passed laws against schools refusing to feed students, others have policies like only serving cold lunches of peanut butter and jelly sandwiches to kids who are in debt to the school. One school even threatened parents, telling them their kids will be put in foster care if they didn't pay off their lunch debts.
"What we've been telling everybody is one down and 49 to go," Kirkpatrick told PEOPLE.
Ryan's heart is clearly in the right place and it goes to show if you're passionate enough about something, it doesn't matter your age, if you set your mind to something you can accomplish anything.
"The positive feedback has been overwhelming," Kirkpatrick shared. "Now we are working on getting the same legislation passed in other states until we can get something permanent at the federal level."
This article was originally published on