California Will Be First State To Ban Pet Stores From Selling Dogs And Cats
by Cassandra Stone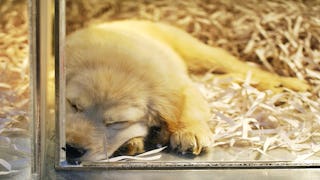 Image via Getty/www.flickr.com/la_cuna/
The new law will hopefully crack down on puppy mills and kitten factories
In an effort to crack down on breeding mills, California will become the first state to ban pet stores from selling dogs, cats, and rabbits starting January 1.
The bill, AB 485, signed last year, officially takes effect on the first of the year. Pet stores in California will only be able to sell cats, dogs, and rabbits that come from local rescue groups, shelters, or animal control agencies.
Pet stores will also have to maintain detailed records for where each animal comes from and provide that information to potential owners by placing it on their cages or enclosures. The stores will also be required to give public animal control agencies or shelters periodic access to those records.
The new law goes in accordance with the Pet Rescue and Adoption Act, which was signed into law by California Governor Jerry Brown in October 2017. Under the law, individuals are still allowed to buy from private breeders, but stores are prohibited from doing so.
Prior to the Pet Rescue and Adoption Act, California taxpayers spent more than $250 million per year on housing and euthanizing shelter animals.
According to the Humane Society, breeding mills for puppies and kittens leads to an estimated 1.5 million animals euthanized across the United States each year. Even more heartbreaking is the fact that puppy mills supply 99 percent of the dogs sold in pet stores nationwide.
Failure to abide by the new California law will result in a $500 fine for store operators or owners. Here's hoping more states begin to adopt similar laws in the future.
This article was originally published on