California Announces 1st COVID-19 Vaccine Mandate For Schoolchildren
by Erica Gerald Mason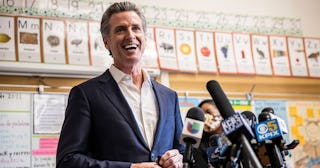 San Francisco Chronicle/Hearst Newspapers/Getty
The state will require proof of the vaccination for students in kindergarten through seniors in high school
California Gov. Gavin Newsom has announced the country's first coronavirus vaccination mandate for schoolchildren. The law says that all elementary through high school students must get the shots once the vaccine receives final approval from the U.S. government for the appropriate age groups.
So far, the vaccine is only available by emergency authorization for kids 12 to 15. Once federal regulators approve it for that group, California will require students in seventh through 12th grades to get vaccinated. The new mandate applies to both public and private schools.
The state's vaccine mandate for school children would be in place the semester after the federal government grants final approval. If the approval happens in January of 2022, then the mandate would take effect that July.
There will be both religious and medical exemptions, but the guidelines for them haven't been written yet. The new rules state that any parent who declines a covid vaccine for their child will be forced to enroll their student in an independent study course to be completed at home.
A Twitter user pointed out that most California residents support a leader that will make difficult decisions for the public good.
Previously, local school districts made their own rules about the vaccination status of students, which led to complaints that there was not a consistent requirement from one district to another. So far, five districts in California have imposed their own requirements, which will take effect in January.
The new mandate will not override those districts' plans, allowing school districts to "accelerate" the requirements.
The new mandate comes as there has been a growing divide among the nation, the vaccinated versus the unvaccinated. It doesn't help that there is a wealth of misinformation surrounding the safety of the vaccine; a fact which frustrates public health officials. Recently YouTube has vowed to ban and delete any content that spreads coronavirus misinformation.
President of the California Medical Association, Dr. Peter N. Bretan, said the organization "strongly supports" the governor's decision to enforce a state-wide mandate, the AP reports.
"This is not a new idea. We already require vaccines against several known deadly diseases before students can enroll in schools," Bretan told the media outlet. "The Newsom administration is simply extending existing public health protections to cover this new disease, which has caused so much pain and suffering across our state, our nation, and the entire globe over the last 18 months."
For his part, Newsom voiced the opinions of many people who have taken the vaccine and are ready for life to return to some semblance of normal.
"We want to end this pandemic. We are all exhausted by it," Newsom told reporters.