CA Governor Defies Trump And Offers Furloughed Workers Unemployment Benefits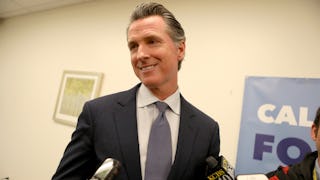 Image via Anda Chu/MediaNews Group/The Mercury News via Getty Images
The Trump administration told states they can't pay unemployment for workers being asked to work for free
With Trump's government shutdown closing in on a month, federal employees are more strapped than ever. Luckily for California, their new governor Gavin Newsom appeared at a press conference to address concerns and assure federal employees he "had their backs" when it comes to unemployment coverage.
The Trump administration told states they can't offer unemployment benefits to federal employees who are required to report to work without pay during the government shutdown, something Newsom isn't prepared to do. "Let the word go forth: We'll cover you, we'll have your back," the Democrat said Thursday, CNBC reported. "Come in, we already have EDD on alert that we want to bring those 144,000 folks that may be impacted and let them know that they should be able to pay their rent, come the end of Friday."
The number of federal employees working without pay is now at 450,000 — a number could grow to half a million in the coming days — as the Trump administration prepares to recall tens of thousands of additional workers. "From a moral perspective, there's no debate on this issue and we will blow back aggressively on the department of labor," Newsom continued.
Newsom called Trump's order not to pay workers "jaw-dropping and extraordinary" as he met with TSA workers at the Sacramento International Airport Thursday afternoon. "So, the good news is, we're going to do it, and shame on them." Nationwide, over 800,000 people have been impacted by the shutdown, now the longest in U.S. history.
Newsom was sworn in as governor earlier this month but during his big speech his two-year-old son, Dutch, was the one who stole the show. Newsom didn't skip a beat, holding onto his youngest and taking the time to remind everyone what's most important. "All kids — not just the children of a governor and a filmmaker — should have a good life in California,'' he said. "Not ripped away from their parents at the border. … Not left hungry while politicians seek to pour billions into a wall that should never be built."
"Because of the shutdown and being furloughed — or basically, not being paid — I had to put a 'for sale' sign on my house on Sunday," TSA employee Miguel Pagarigan said during Newsom's press conference, crying as he spoke. He also told Newsom he has one month's savings and will then need to take out a loan to pay his bills.
Another said, "Because of the shutdown and being furloughed, basically not getting paid, I had to put a for sale sign on my house on Sunday," ABC News 7 reported.
The Port of Oakland and airlines are pitching in to provide lunches to TSA workers, assist in paying for parking, and volunteers are helping them sign up for unemployment benefits at Oakland Airport. Similar efforts are underway in other local airports. Others who have been furloughed are turning to food banks to help feed their families, doing everything they can to provide for themselves and their families.
With no end in sight, chances are this is going to get a lot worse before it gets better.