New California Law Will Require Gender Neutral Toy Sections In Large Stores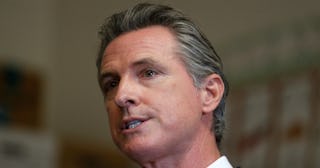 Jane Tyska/Digital First Media/East Bay Times via Getty Images
The new law is the first of its kind in the country
California passed a new law this weekend aimed at giving kids more gender neutral options when they're shopping. Governor Gavin Newsom signed Assembly Bill 1084, which will require large department-type stores to offer gender neutral areas for things like toys and personal care items (think toothbrushes and toiletries) so children don't feel like they have to choose pink or blue when they're buying.
"We need to stop stigmatizing what's acceptable for certain genders and just let kids be kids," the bill's author said. "My hope is this bill encourages more businesses across California and the U.S. to avoid reinforcing harmful and outdated stereotypes."
Per ABC News, Assemblyman Evan Low said he wrote the bill after hearing about the 10-year-old daughter of one of his staffers, who had apparently questioned why some stores seemed to be separating"boy" things from "girl" things.
"Part of it is to make sure if you're a young girl that you can find a police car, fire truck, a periodic table or a dinosaur," Low told the Los Angeles Times. "And then similarly, if you're a boy, if you're more artistic and want to play with glitter, why not? Why should you feel the stigma of saying, 'Oh, this should be shamed' and going to a different location?"
The bill will inevitably generate a backlash in some circles, but doesn't it make all the sense in the world to make sure kids can buy any kind of toy they want, without feeling like they're doing something weird?
"We know from a variety of different research once they have those categories in their heads and if you label something for girls or boys, children will often ignore it if it's labeled for the other gender," psychologist Campbell Leaper said in the Times.
Retailers are free to still have dedicated boy and girl sections, but by 2024 they'll need to make sure they offer the gender neutral option as well. The new law does not apply to clothing sections, and it'll only effect stores with more than 500 employees. That will include stores like Target, which already dropped gender specific toy signage a few years ago.
Assemblyman Low has been trying to get a bill of this sort passed for years, and he says his only goal is to help kids feel protected. "I think it's important that we as a state are demonstrating our values of diversity and inclusion."