California Considers The Strictest Vaccine Law In The U.S. To Combat Anti-Vaxxers
by Christina Marfice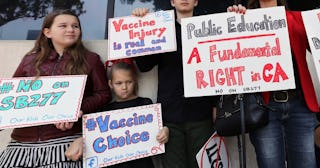 Irfan Khan/Los Angeles Times/Getty
If this law passes, California will have some of the strictest vaccine rules in the country
Amid the highest rates of vaccine-preventable diseases in decades, lawmakers everywhere are pretty stuck about how to legislate people's health to combat anti-vaccine parents. But in California, legislators don't seem to be afraid to lead the way. Four years after the state became the first in the country to roll back religious exemptions for childhood vaccinations, California is now considering an even stricter law that would make it much harder for parents to obtain medical exemptions to get their kids out of getting their shots.
Today, the California bill goes to committee for the last time. If the committee sends it to the floor, it'll receive a full vote, and if it passes, Governor Gavin Newsom has already said he intends to sign it into law.
Basically, the new law would make it easier for the state to crack down on bogus medical exemptions that certain unscrupulous doctors have been giving out for a fee.
"We want to be sure that children who genuinely need a medical exemption get one. They need them," Dr. Richard Pan, a doctor who is also the state senator behind the bill, told BuzzFeed News. "That means we can't have a bunch of other kids, whose parents basically bought the medical exemption, who don't really need them."
This comes after a statewide analysis showed that in many California schools, more than 10 percent of kids are missing vaccines because they have medical exemptions. Statistically, though, only about 1 percent of kids should have a medical condition that would legitimately prevent them from being able to safely receive vaccines. And it's that 1 percent of kids who are in danger when so many other kids don't get vaccinated. With more than 10 percent of kids missing vaccines, schools no longer have herd immunity, and can be dangerous for kids who legitimately can't get vaccinated.
"They need to be able to go to school and be safe as well. All children deserve to be safe at school," Pan said.
The new law, if it passes, will give the California Medical Board better avenues to investigate physicians who are selling vaccine exemptions, something that has become a real problem in the state. In San Diego, just one doctor was responsible for more than a third of the area's vaccine exemptions. In the Bay Area, five doctors who are known in anti-vax circles on social media for being "vaccine friendly," signed more than half of the county's exemptions.
The California law has faced fierce opposition, including from anti-vax celebrities like Robert F. Kennedy Jr. and Jessica Biel. Here's hoping that won't stop lawmakers, and that other states follow suit.