California Officials Are Telling People To Stop Vaping Immediately
by Sarah Bregel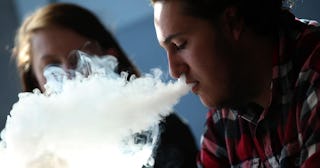 Justin Sullivan/Getty
The risks of vaping are clear as the number of lung-related illnesses keeps growing — and California is taking action
On Tuesday, the California Department of Public Health issued an advisory urging people to stop vaping right away. The advisory comes as a growing number of people have been hospitalized with lung-related illnesses. Two deaths have been reported in the state of California, but nationwide, that number is now up to nine. More than 500 people have become seriously ill as a result of vaping, as well.
Those numbers are expected to keep growing, though, hence this strongly worded warning. The advisory from the CDPH reads, "We are learning from this investigation that lung damage can happen very suddenly to people who vape, including people who have not been vaping for a long time, and young, healthy people who do not have lung disease or other health problems. This is different from most other health issues caused by vaping and smoking, which happen over a long time and can be worse in people who have other medical conditions."
It's clear that this issue is important and should be taken extremely seriously by those who currently vape. Dr. Charity Dean is California's acting public health officer. She said in a statement, "We are seeing something that we have not seen before. There are numerous unknown factors at this time, and due to the uncertainty of the exact cause, it is our recommendation that consumers refrain from vaping until the investigation has concluded."
Investigations could take some time, but it is expected that there is something toxic in the heated liquid — oil or another substance — that is causing the very fast-moving lung damage in those who use it.
Several symptoms, not just breathing problems, have been reported. Most commonly, people are coming to the hospital with difficulty breathing, coughing and chest pain, but they have also had nausea, abdominal pain, diarrhea, fevers, lethargy and weight loss. The challenging part is that many of the symptoms mimic pneumonia or bronchitis and since there is no specific test a doctor can do immediately to tell if the sickness is from vaping, it can be hard to tell the difference the first time a patient is seen.
Primo Castro, American Cancer Society Cancer Action Network L.A. Government Relations Director said in a statement, "This swift action is exactly the type of protections we would like to see. Make no mistake — the industry shamelessly tries to maximize profits while its customers suffer death and disease, and local taxpayers continue to foot the bill for tobacco-related illnesses."
Several other states like New York, Michigan, and Massachusetts have begun taking action to ban vaping. Hopefully, people in California, as well as across the U.S. take this warning to heart because the danger of vaping is now clearer than ever.