Target Now Has $5 Rosé Because They Love Us And Want Us To Be Happy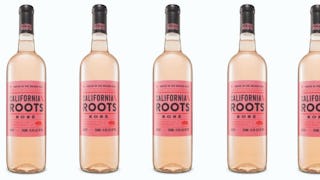 Image via Target
Rosé is latest release from California Roots
Rejoice, wine enthusiasts! Our home away from home, Target, is releasing its $5 rosé just in time for spring. Sure, it's still snowing in various parts of the country, but perhaps we should drink for the weather we want, not the weather we have.
The rosé is the latest release from the California Roots collection, which we told you about last year when it launched. All the blends are made with premium, California-grown grapes. We know its fancy enough because Wine Enthusiast gave the red blend, Chardonnay, and pinot grigio Best Buy scores. Plus, did we mention that it's only $5 and sold at the place we all love?
"Since we started offering California Roots last summer it has quickly become one of our top-selling wine brands, adding to the overall success of our adult beverage business," explained Mark Tritton, Target executive vice president and chief merchandising officer. The women (and probably some men) have spoken: give us the Target wine! It appears a few lucky souls have already spotted it in their stores.
This rosé has notes of fresh berry (which berry? who cares) and citrus, according to our besties (Target employees). They also told us that it pairs well with spicy grilled shrimp, grilled pesto chicken, Margherita pizza, or a crisp spinach salad. Translation: grab a pizza from the frozen section, the rosé from the wine section, and the diapers you ran out of this morning in less than 30 minutes.
If cheap rosé isn't your jam but you still want to celebrate pink wine season, then don't fret: the mother of commerce has tons of other, more expensive rosés. Earlier this year the store started stocking Yes Way Rosé, which costs $13 a bottle. If that's still too reasonably priced for your bougie tastes, don't worry, your favorite store has got you covered.
https://www.instagram.com/p/Bg9KtRnHz9y/?taken-by=californiarootswine
"Rosé is one of the most popular varietals at Target right now and as we head into peak rosé season, our wine buyers say that trend is here to stay," the company said. "So much so that we nearly doubled our rosé assortment." While we're already devoted to the $5 wine collection, it's nice to know they're considering more discerning palates as well.
In just a few short days we'll be able to snag the California Roots Rosé in 1,200 Target stores across the country — it hits shelves April 8. And for you sad folks who can't buy wine and deodorant at the same time, Target's continuing its work on liquor license expansions. They explained: "We'll continue to bring adult beverage to even more guests by making the assortment available in nearly 80 percent of our stores by the end of 2018."