California Shooting Survivor Makes Heartbreaking Apology To Victims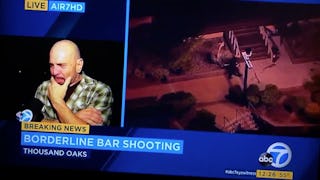 Image via ABC / Twitter
A heartbreaking video shows one California shooting survivor apologizing to the young people who were killed
By now, most people know that yet another mass shooting has happened in America. At least 12 people are now confirmed dead in the massacre that happened late Wednesday night at the Borderline Bar & Grill in Thousand Oaks, California, one of them a sheriff's deputy who was first to arrive on the scene after reports of the shooting.
It was college night at the popular country music bar, and many inside were students from nearby schools. At least a dozen injured were transported to local hospitals.
There are a number of heartbreaking details emerging about the California shooting. The shooter has been identified as Ian David Long, a 28-year-old veteran of the U.S. Marine Corps, who reportedly purchased his gun legally. One of the most shocking and horrifying details is that some of the people in the bar were survivors of the Route 91 Music Festival shooting in Las Vegas last year. It is still unknown if they were lucky enough to survive their second mass shooting.
But one video that was taken by news crews at the scene illustrates how horrifically all involved in these shootings are affected. In it, he sobs through apologizing to the young people at the bar. His guilt at having made it out alive is clearly agonizing.
He describes seeing Long shoot the bouncer — "just a young man," he sobs — and the cashier — "just a young girl."
"I should have stayed," the man continued, "but I was worried about my boy. But I should have stayed. I apologize to anybody who got hurt. I'm sorry."
The boy he's referring to is reportedly his own son. They were near the door when Long came in shooting.
Now barely able to speak through his tears, he adds, "They're all young. I'm 56. I lived a life, they're all young."
This is the reality of living in America today.
For those of us who have not yet been involved in a mass shooting, it's likely we already know of someone who has. For those who have and were lucky enough to survive, there's a lifetime of guilt at trauma waiting. This is the reality.
Someday, this madness has to stop. The California shooting happened just one day after 106 NRA-backed candidates won their midterm elections. We can stop this. But first we have to stop electing the people who would rather take money than save lives.