USA's Largest Student Loan Processor Is Being Sued For 'Deceiving Borrowers'
by Cassandra Stone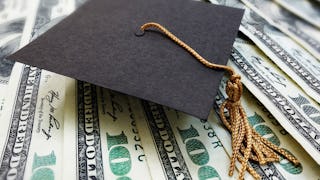 Image via Getty/Timmyvws
Navient, formerly Sallie Mae, is in hot water over their student loan practices
California Attorney General Xavier Becerra has announced he's filing a lawsuit against the biggest student loan processing company in the country, Navient, for harming consumers and cheating borrowers.
According to the Department of Education, nearly 5 million Americans are currently in default on their student loans — which is more than double the number from just four years ago. Student loan debt is arguably the biggest financial obstacle millennials face today — and Navient, formerly Sallie Mae, surely isn't helping matters.
Becerra says the Delaware-based company has financially harmed thousands of Californians by failing to properly service federal student loans — which is illegal. Navient is accused of steering borrowers toward more expensive repayment plans and failing to inform consumers of income-driven repayment plans. Becerra also says Navient is guilty of informing borrowers with disabilities of their financial options as well — and the financial repercussions for Navient borrowers is staggering.
"No one should have their American dream shattered because some loan servicing company is cheating these future leaders of a chance to move ahead," Becerra tells NBC Bay Area.
Becerra also says Navient assigned thousands of delinquent loans to subsidiary companies — who, in turn, also misled borrowers about their repayment options. Navient services approximately 12 million borrowers and 1.5 million of them live in California.
As someone who defaulted on my own student loans many years ago — I can tell you firsthand, that shit will follow you until the day you die. Because there's no way in hell I'll be able to pay back the six-figure sum of my college education, my loan debt will absolutely outlive me no matter how "good" I am about making payments now. In my experience, loan companies like Navient are completely underhanded, misleading, and take advantage of poor people every day. I applaud this lawsuit wholeheartedly.
Navient president and CEO Jack Remondi calls Becerra's allegations "unfounded," because of course he does. He wouldn't be the CEO of a company like this if he didn't.
California isn't the only state to come for Navient — U.S. Consumer Financial Protection Bureau and attorneys general in Illinois and Washington sued Navient early last year over similar violations. Pennsylvania's attorney general sued the firm last October, too.
Becerra says the state may seek debt relief, repayment of overpayments, forgiveness of loans and other remedies.
This article was originally published on