Here's How To Help Those Affected By The California Wildfires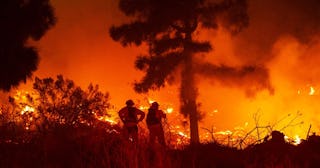 Xinhua/Qian Weizhong/Getty
Here's where to donate to help those affected by the California wildfires
For more than a week, California has been battling dozens of wildfires across the state. Hundreds of people have lost their homes, almost a quarter of a million have received evacuation orders, and Pacific Gas & Electric has shut off power for nearly 3 million people in an attempt to prevent future fires. Fortunately, there are several ways and organizations to donate to if you'd like to help.
As for the active fires, the Kincade Fire in Sonoma County up in Northern California has destroyed nearly 60 homes and all of Sonoma County is being told to be ready to evacuate at a moment's notice. In the south, the Getty Fire in Los Angeles continues to burn and has already scorched over 650 acres and is currently only at 5% containment. Plus, the Tick Fire is still also burning in Los Angeles County after breaking out on October 24. These are just a few of the dozen or so fires that have been burning through California in the last week and officials say that the wildfires may be contained by November 7, but that it could take "weeks if not months" to put out all the flames.
To help those who have been displaced by the fires, here are several places to send your money.
GoFundMe pooled all the verifiable GoFundMe campaigns in one central location, so you can send money directly to the families affected by the fires.
United Way of The Wine Country opened the Kincade Fire Emergency Relief & Recovery Fund, which will help the community with relief and recovery efforts post-fire.
The Sonoma County Resilience Fund is "the largest long-term disaster recovery fund in Sonoma County" and will fund trauma relief and housing solutions for those displaced by the fires.
The Red Cross has opened dozens of shelters across the state, providing both food and shelter to those who need it.
The Salvation Army provides food and beverages wherever they are needed and are currently delivering meals to four different shelters in Northern California and at least one center in Southern California.
The California Fire Foundation's SAVE program provides $250 gift cards to victims of fire so they may purchase basic necessities in the immediate aftermath.
Large family pets are not able to go to the shelters with their owners, so you can donate to one of the local animal shelters that is taking in those pets. To help pets displaced by the Getty Fire, head here. To help the animals displaced by the Kincade Fire, you can donate to the Humane Society of Sonoma County, the Sonoma Community Animal Response Team, and The Marin Humane Society.
If you operate an Airbnb, you can offer your home up for free until November 7 through the company's Open Homes program.