Reality Star Has The Perfect Mic Drop For Fans Asking If She'll Breastfeed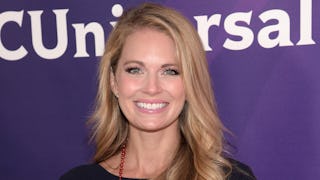 Image via Jason Kempin/Getty Images
Her video is an amazing clap back to those asking if she's going to nurse
A reality star has some very frank and sassy thoughts about her fans questioning whether she plans to breastfeed her first baby, due later this fall.
Cameran Eubanks once appeared on MTV's Real World and currently stars in the Bravo docuseries, Southern Charm. Her life is on display for many thousands of fans, and it appears they've taken that openness a step too far — by pummeling her with messages about whether she will nurse her baby girl.
Eubanks took to Instagram to silence the masses, and her response is pure perfection.
"Y'all are about to drive me to drink," she says. "If I get one more message asking me if I plan on breastfeeding my child, I'm going to delete my Instagram account forever."
Uh oh.
"First of all, it is none of your dang business how I plan to feed my child, but to answer everyone's questions so they will shut their yappers, yes, of course I plan on breastfeeding my child."
Her intentions clearly stated, Eubanks goes on to explain the chain of events if nursing doesn't totally work out. "But if that doesn't work I will then pump, and if the pumping doesn't work then I will happily stick a bottle of formula in my baby's mouth and she will turn out just fine just like I did, and thousands, probably millions of other children."
A-FREAKING-MEN. Now, for the hilarious mic drop.
"If the formula doesn't work then I will go to Chick-fil-A and get a number three value size, put that in a blender and spoon-feed her," she quips. "And I'm fairly certain she's going to like that because it's pretty much the only thing she's been eating for the past nine months anyways."
Boom. Her answer is fantastic, because hello, it's absolutely not a single soul's business (aside from your own and whomever you choose to tell) how you're planning to feed your infant. No one's. No. One's. Eubanks is annoyed by the question, with every right to be. Usually, when someone asks if you're going to breastfeed, it's so they can impart their own "wisdom" or judgment on the situation. But pregnant women know they can ask people if they have questions about infant feeding, or consult the vast internets.
It's 2017. We can find out anything in the world about breastfeeding, no need for nosy strangers to try and "help." Huge props to Eubanks for calling out those who think otherwise.